Following the submission of a planning need assessment prepared by our consultancy team and further supported with our alternative site assessment, Graham Land & Development have been granted planning permission for the development of a purpose-built care home with 80 suites for the elderly and those living with dementia on their existing care home site in Harpwood, Sevenoaks.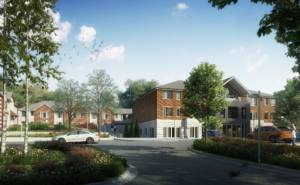 CGI of proposed care home, Sevenoaks
Graham Land & Development have a growing portfolio of high-quality care homes, and this development demonstrates the group's commitment to delivering quality care standards within an outstanding care environment. The home will offer a range of communal areas and will have the flexibility of accommodation to care for residents with high dependency residential nursing needs as well as those living with dementia.
Ernie Graham, owner of the Graham Land & Development, says: "Having worked with Carterwood for a number of years, we have the greatest respect for their sector expertise and the detailed and in-depth market analysis they offer. We are delighted to have obtained planning permission at Harpwood and believe the development offers a fantastic opportunity to improve the care provision in the local community."
Carterwood director, Alex Taylor, says: "We are delighted to have assisted Graham Land & Development with obtaining planning permission for their proposed re-development of Harpwood Care Home, and wish them every success. We have a great track record in supporting our clients with their planning applications through detailed need analysis and look forward to supporting Graham Land & Development in their future endeavours."
Carterwood offer a range of services, designed to inform and support our clients through every stage of the decision-making process with regard to their existing portfolio, sales and acquisitions. For more information on how we can help you achieve planning permission, using our need assessment, please contact Tom Hartley on 08458 690777.