Here at Carterwood, where data is our domain, we can't help but get excited when news of the England and Wales 2021 census data release comes our way. The Office of National Statistics (ONS) is just one of our many data sources, and the information from the census informs numerous Carterwood systems to feed the quality data we rely on to provide you with market-leading advisory service from our team of sector specialists.
When will the data for England and Wales be released?
The Office of National Statistics (ONS) aim to release the first Census 2021 data on the population of England and Wales within a year of census (21 March 2021), with the intention of releasing all the main results within two years of census. Based on this, the initial findings from the census are currently due to be published from March 2022, with the final release of all data outputs for England and Wales due by March 2023.
With the 2011 Census taking nearly three years to release, this represents a significant improvement on the length of time between data collection and release. This advancement will allow us to use and share the data with you quicker, ensuring you have the most up-to-date data available to make the best-informed decisions.
The ONS Census 2021 milestones sets out what the timetable for data release looks like.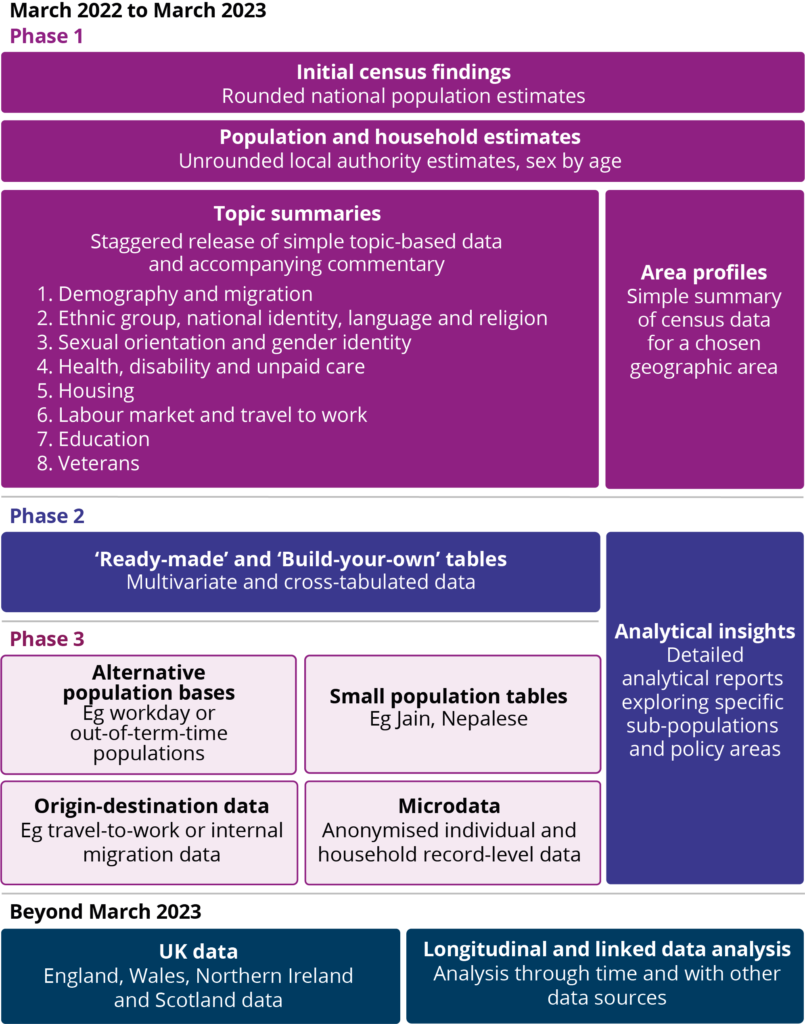 Image source: Office of National Statistics
The ONS are currently undertaking a consultation regarding the design and release phase proposals, which provides more detailed information around the release schedule and geographies. Click here to find out more about the Census 2021 outputs: content design and release phase proposals.
Northern Ireland and Scotland
The Northern Ireland Statistics and Research Agency are looking to release their first outputs in summer 2022, details of the data collection, processing and release timeline can be found by clicking here.
Unfortunately, due to the COVID-19 pandemic, the Scottish census has been postponed until March 2022, with the first set of outputs from the National Records of Scotland expected to be released by March 2023. More details on the planning of the 2022 census for Scotland can be found by clicking here.
How do Carterwood use the data from the census?
The census data is primarily used to inform our population data, which is then projected using ONS bi-annual population projections. The data is also used for calculating demand, with the  application of Laing Buisson's age standardised demand (ASD) rates to these figures. We utilise the figures from the census in several other datasets, including the household reference person (HRP) data, which we largely use for our older peoples' housing analysis, care assistant market size, approximated social grade, and a number of personalised datasets that we regularly use for bespoke work.
Much of the data we use from the ONS will be released in phase one, between March 2022 and March 2023, and will provide us with updated population estimates at both national and local authority level, alongside relevant topic-based data, such as demographics and housing statistics. Geographic area profiles will also be released in phase one, providing Output Area (OA) data, which are the smallest geography outputs available at around 100 households in size. The OAs are a key driver behind nearly everything we do – they inform our catchment areas from which we generate the data and statistics that help inform our assessments and recommendations.
What you might not know is that Output Areas are not static, they are dynamic and change over time. This is essential to account for continual shifts in population centres, ensuring OAs broadly remain within the population thresholds, and changes in other geographies such as local authority boundaries. The ONS will be reviewing OAs based on Census 2021 population and household data with the aim to merge or split them as needed to ensure they remain within the established population and household size thresholds. The ONS predict this will result in around a 5% overall change between OAs (compared to 2011), following targeted re-alignment of OAs to better fit ward and parish boundaries. The ONS have actively sought to reduce the time it takes to release data for lower-layer geographies and certain topics in response to feedback from the 2011 Census.
The data sourced from the ONS drives much of the data we use throughout our advisory services and Carterwood Analytics platforms:
It is this data that allows us to analyse markets at a granular level, assessing the viability of our clients' plans and provide the market-leading detailed assessments we are renowned for.
Let's talk
Quality data is what drives our market-leading advisory and analytics services. If you are interested in working with an award-winning team to help improve your strategic decision-making, we would be delighted to hear from you.
Our team of sector specialists are here to support your growth plans, providing expert market intelligence, advice and guidance at every step of your journey.
Discover how Carterwood Analytics – our online platform for care home and retirement living market analysis – can help you:
Alternatively, why not get in touch with Tom Hartley on 07715 495062 or tom.hartley@carterwood.co.uk