Authors: Ben Hartley, Jessica Stainthorp
Join us as we continue our series exploring our newly updated database of self-funded fee rates for 9,000+ elderly care homes in Great Britain, enabling us to shine a light on how fee rates change by region, as well as how the characteristics of homes correlate with the fees they quote.
For background on this research, please see previous articles in this series:
In this article we explore the impact of COVID-19 mortality rates at individual home level on quoted self-funded fees, answering the question of whether those home with high or low mortality rates have needed to reassess their fee rates as a result.
Get the full research report now
Our full research report (PDF) is available by request and explores in thorough detail:
The changes in national and regional quoted self-funded fees for both nursing care and personal care
How fees break down by age of home (focusing on the sector's newest and shiniest assets)
How COVID-19 mortality rates have impacted on quoted self-funded fees
What our data can tell us about the typical profile of a home with an Outstanding CQC rating
How local authority baseline fee rates vary across Great Britain
To request a copy of the full report, please email info@carterwood.co.uk or call 01454 838038.
COVID-19 mortality rate at individual home level has had negligible impact on quoted self-funded fees
Using the CQC's publication of data showing death notifications involving COVID-19, received from individual care homes between 10 April 2020 and 31 March 2021 (released on 21 July 2021), we have analysed what impact this has had on quoted fee rates at the individual home level.
Figure 2: Quoted fee rate increases across elderly care home COVID mortality rate bands in England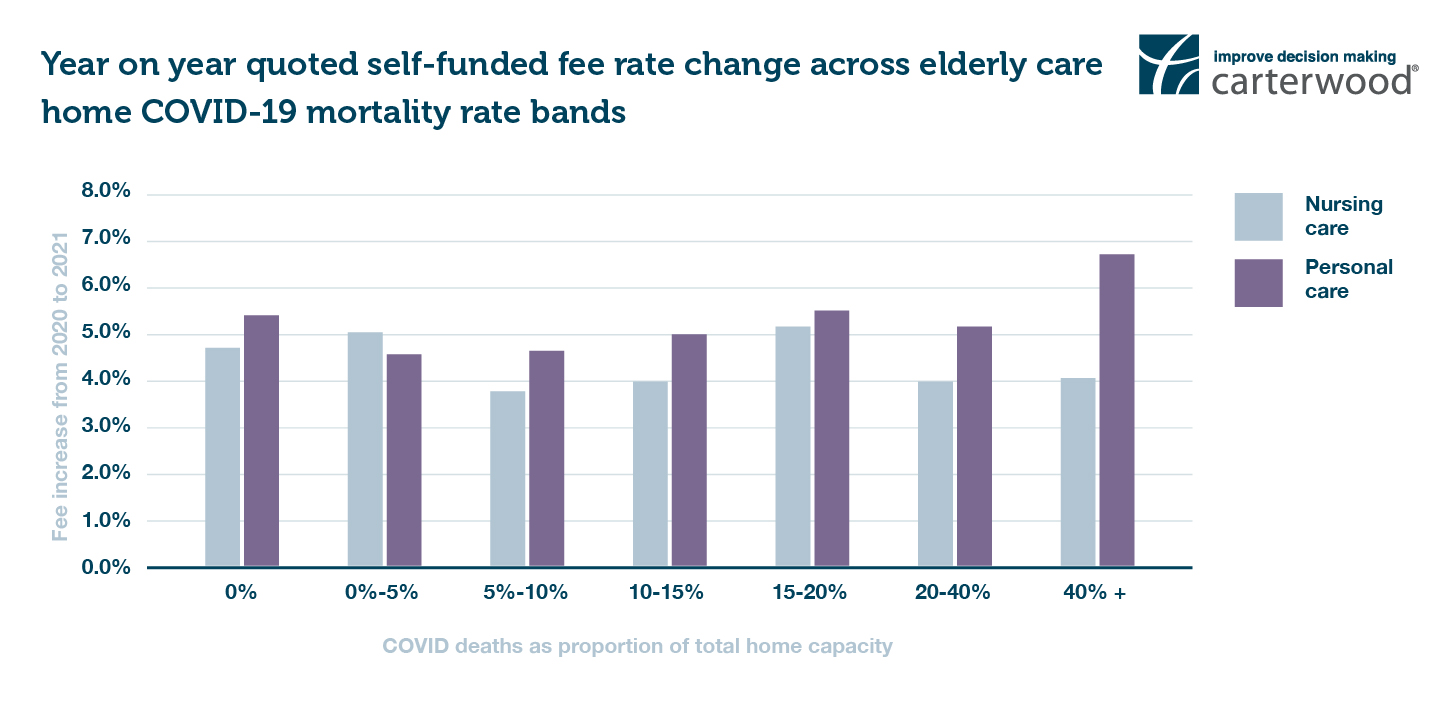 Figure 2 shows the average fee rate increases broken down by bands representing the proportion of elderly care home residents that died from causes relating to COVID-19 in individual homes.
This percentage is calculated by taking the total number of confirmed or suspected deaths from COVID-19 between 10 April 2020 and 31 March 2021, as reported by CQC, as a percentage of total registered beds in the home.
Our analysis indicates no direct relationship between fee rates and COVID-19 mortality rates at the individual home level.
It would be natural to hypothesise that the greater the mortality rate of COVID-19 at an individual home, the greater the need would be to reduce fees to encourage a return to viable occupancy levels. Surprisingly, that logic does not play out in the data. Conversely, you might expect a home that had successfully navigated the pandemic with very low COVID-19 mortalities to be well positioned to increase its quoted fees.
However, our analysis indicates no direct relationship between fee rates and COVID-19 mortality rates at the individual home level. This may be because all homes (regardless of COVID-19 deaths) are still left with significant cost increases to operate with for years to come, so have had no choice but to increase fees.
Homes with a 40%+ COVID-19 mortality rate had a larger than average increase in quoted fees for personal care, but these homes represent less than 1% of the total dataset, so are not statistically significant.
That outlier aside, year on year quoted fee increases are remarkably consistent across the bands of COVID-19 impact.
Benchmark your fees against your local competitors in seconds
Carterwood Analytics – Elderly Care Homes
Carterwood's comprehensive fee database is accessible at a local market level via our Carterwood Analytics platform. To find out more just email sales@carterwoodanalytics.co.uk.
Carterwood's specialist reports for the elderly care home sector
Optimise your elderly care home fees by commissioning a Fee Benchmarking Report from Carterwood's sector-specialist advisory team. Our unique dataset and deep expertise can unlock growth opportunities across your portfolio. Click here to find out more about our specialist reports or email info@carterwood.co.uk to get in touch with a member of our friendly team.