You can't make good decisions without access to accurate, up to date information. That's why we've just updated our market-leading self-funded fee database on Carterwood Analytics – Elderly Care Homes with the latest rates from operators across Great Britain.
We have updated approximately 9,100 homes with new fee rates collected between April and June 2021.
This unparalleled private fee rate dataset is included at no extra cost as part of our Unlimited subscription package and is available as a bolt-on to the Starter and Professional packages.
There are three ways to access fee data in Carterwood Analytics
Map view

Just click on any care home marked with the '£' sign to access fee and other individual home information.
Competition list

The Competition list shows fee information for the homes in your catchment area. You can sort homes by minimum and maximum fees for nursing and personal care, and filter the homes in the catchment to make more meaningful comparisons. For example, you may want to filter to only show homes with 100% en-suites.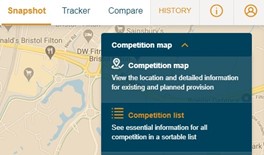 Fee analyser

Finally, our powerful Fee analyser feature breaks down fee rates by first date of CQC registration, CQC rating and ownership of home, as well as by category of care.
You can benchmark your catchment area against the same metrics for the region, against Great Britain as a whole, or against the entire portfolio of a specific operator.
Want to find out more about?
Our comprehensive fee data can help you to benchmark care market fees with ease, keeping you ahead of your competition.
If you are already a subscriber and you would like a member of our team to show you how to access fee data in Carterwood Analytics – Elderly Care Homes, we'd be happy to provide an online demo. Just get in touch on 01454 838038 or email support@carterwoodanalytics.co.uk to arrange a time.
If you are not yet a subscriber – what are you waiting for? All the tools you need to stay ahead of your competition are at your fingertips!