You may have spotted that we recently launched our Carterwood Market Movers 2022 research, celebrating those who are aiming to redress the supply and demand imbalance in the elderly care home sector with their new planned developments.
Highlighting the organisations that are poised to bring essential new capacity to sectors that urgently need it, our Market Movers 2022 research ranks developers and operators by their planning activity throughout 2021.
You can find out more about our wider Market Movers 2022 research by clicking here, where we reveal…
Our top Market Movers 2022 in the elderly care home sector
What changes have occurred since our Market Movers 2020-21 release
Where our Market Movers 2022 are developing across the UK
However, in this article, we take a closer look at our top 3 Market Movers for the elderly care home sector, exploring what trends they are noticing, how these trends are changing the way they are planning, and shining a light on their future plans.
Quick links
Our top 3 Market Movers 2022 racked up an impressive 71 applications that were either granted or validated (and still pending), totalling 4,589 beds and accounting for 17.8% of all 2021 planning activity identified within our elderly care home Market Movers 2022 research.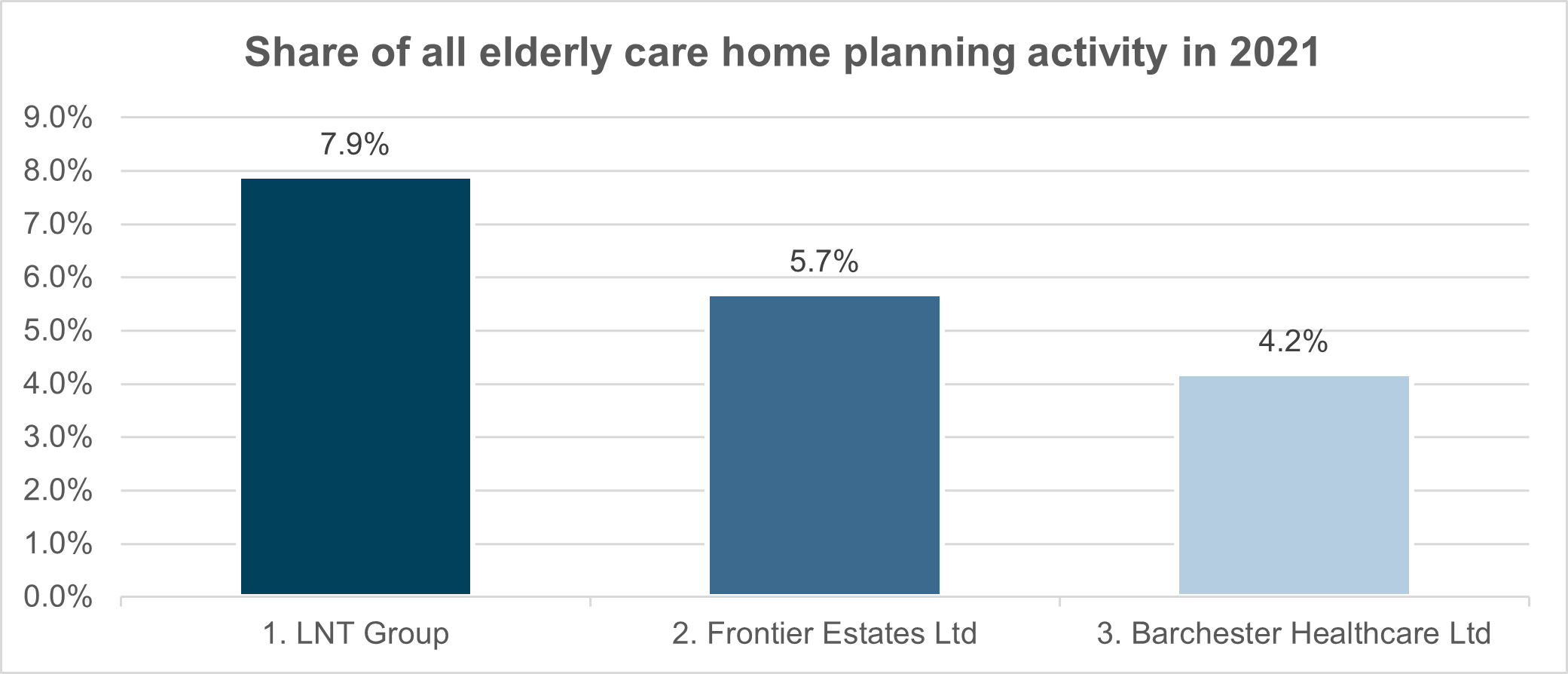 1. LNT Group

We speak to Matt Lowe, chief executive at LNT Group, about his thoughts on how planning is changing and LNT's plans for the future…
"We are thrilled to be ranked as Carterwood's #1 Market Mover. Submitting over 30 applications for over 2,000 beds is no mean feat and is a result of an outstanding team effort by our development, planning and construction teams. Congratulations to fellow top Market Movers as we work together with the shared goal of delivering high-quality care beds to meet the increasing demands of the elderly care market."
What trends have you noticed over the past year or so, and how are these changing the way you are planning?
"The sector has taken a massive step forward in reducing the environmental impact of developing new elderly care homes. Everything from the initial site planning through to the final interior design touches are now being considered with a greener focus. Environmental and social principles are at the heart of everything LNT does. Analysis already shows that our homes produce 40% less greenhouse gasses than comparatively sized homes, something we are very proud of. LNT will continue to make environmental improvements and are currently building care homes that will be operationally carbon neutral, which will complete in 2022."
What are LNT's plans for the future?
"LNT Construction are currently developing on 27 sites across the UK and over the next year we will be focusing on maintaining and growing this pipeline, continuing our focus on locations of need all across England. The strength of our pipeline, and our 98% planning approval success rate, ensures we can continue to work with operators, large and small alike, to meet this growing demand over the coming years. Recently, we have submitted planning applications for care home developments in Chard, Garstang and Felixstowe, which we look forward to seeing come through our pipeline over the forthcoming months. With a pipeline of over 100 sites and the potential to provide over 6,600 beds for the sector, we're on a mission to meet the needs of the elderly care market."
LNT sites currently under construction: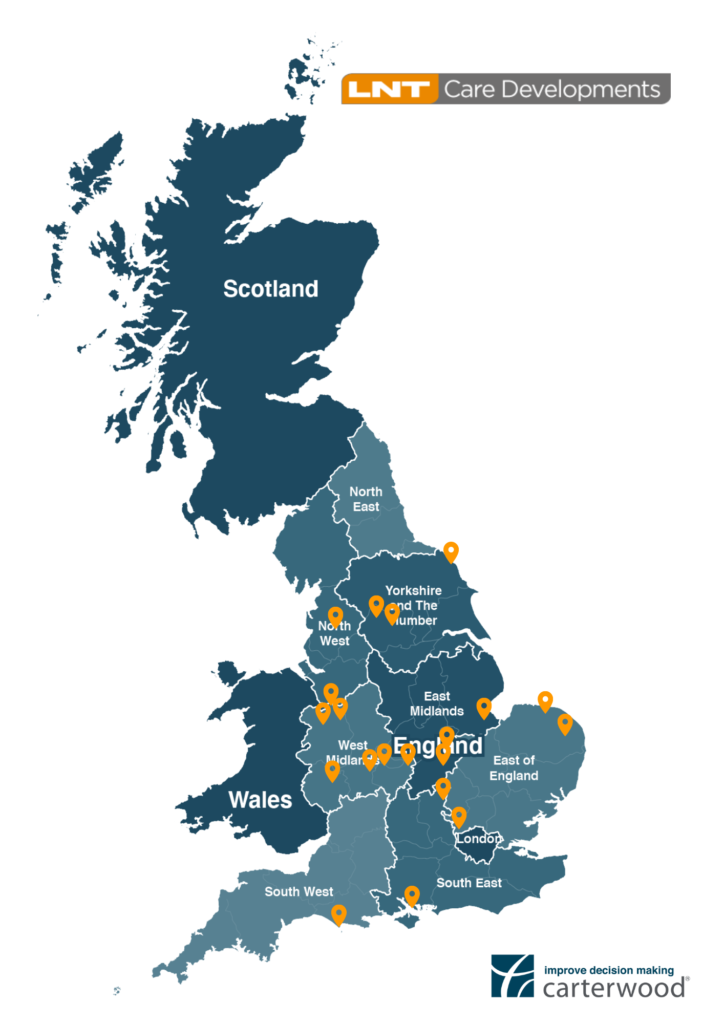 2. Frontier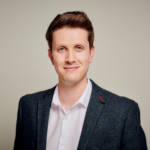 We speak to Sam Rous, development director – head of healthcare at Frontier Estates Ltd, about his thoughts on how planning is changing and Frontier's plans for the future…
"It's always great to measure our performance against our competitors to make sure we're getting it right. At Frontier we've been able to adapt our strategies to suit turbulent market conditions and last year was no different."
What trends have you noticed over the past year or so, and how are these changing the way you are planning?
"We've noticed land values increasing quite considerably and the stock levels aren't what they were 12–18 months ago, so finding suitable sites that provide the best opportunities for our investor and operator partners, with minimal risks, has become increasingly challenging.

We've adapted to the changing market and are now experienced in seeing the potential of locations that might have otherwise been overlooked during the pre-pandemic peak period. We are also targeting regions with minimal care offerings, with the aim to bring different products to our operating partners.

In addition to this, it is important to us that we are maximising building efficiencies and revolutionising our build techniques to adapt to the ever-changing landscape. Implementing modern methods of construction and sustainable building practices are key to how we deliver our care homes for the future."
 What are Frontier's plans for the future?
"To date, we have delivered over 3,500 care beds to operators and we're still counting. Frontier will continue to lead the way in the care market and surge forward in purchasing more sites to bring different types of care offerings to the market and keep improving sustainable care spaces."
Watch the video to discover one of Frontier's recent completions, Botleigh Grange in Hampshire, a 68-bed care home delivered for Barchester (our no. 3 Market Mover 2022 in the elderly care home sector).
3. Barchester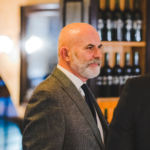 We speak to Julian Burgess, land buyer at Barchester Healthcare Ltd, to hear his thoughts on how planning is changing and Barchester's plans for the future…
"Barchester is delighted to be recognised as a Carterwood Market Mover and for its commitment to driving the development pipeline for new elderly care home beds. Maintaining investment momentum within the sector is essential, and Barchester is proud to be a leading organisation in this field."
What trends have you noticed over the past year or so, and how are these changing the way you are planning?
"Obtaining planning permission has become increasingly challenging over the past few years, and so it has become even more critical to have an experienced and agile team by our side – both internally and externally, who can help us make the best decisions. Despite these challenges, we have achieved a significant number of planning permissions in the last 18 months, which the whole team are excited to progress with.

We continue to look at the merit of each site, with a focus on those that have potential to best serve our staff and residents. Where possible, we seek to secure a pre-application consultation with local authorities, but more and more local authorities are resisting this and are requiring us to go directly to the submission of full applications. This requires a great deal of upfront investment, making the decision on which sites to progress with is critical for success."
What are Barchester's plans for the future?
"Barchester will continue to invest in the acquisition of high-quality sites throughout the country that can serve the private fee-paying market. We have a strong pipeline of secured development going forward, with some 2,000 plus beds, including our most recently granted sites in Ashford and Bromley. This grows our portfolio across the home counties, while we continue to explore and progress with the best opportunities across the country to best serve local residents in need of high-quality care home accommodation."
Barchester's next home to open is Chestnut Gardens in Purley, a 72-bed home that will open its doors in summer 2022.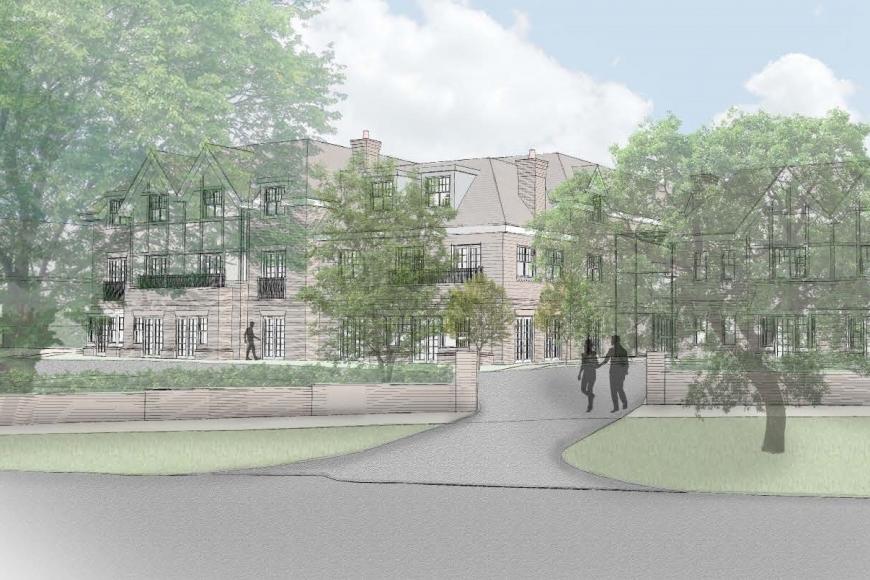 Image: Barchester Healthcare Ltd
Where are our top Market Movers 2022 focusing their future development?
Here, we reveal where our top 3 Market Movers have submitted planning applications across the UK. This is largely reflective of the wider trends of the elderly care home market, which you can explore in our Market Movers 2022 research; however, there are a couple of interesting differences when comparing our top 3 Market Movers' planning activity to that of all elderly care home operators and developers.
The top 3 Market Movers have a greater focus on the historically dominant regions of the South East and East regions, with 10% and 5% more applications in these areas, respectively
This is balanced out by having less planning activity in areas such as the North East (-6%), and the East Midlands (-2%), whilst not having submitted any planning applications in Scotland, Northern Ireland or Wales during 2021, a trend also seen by our top 3 older people's housing Market Movers 2022.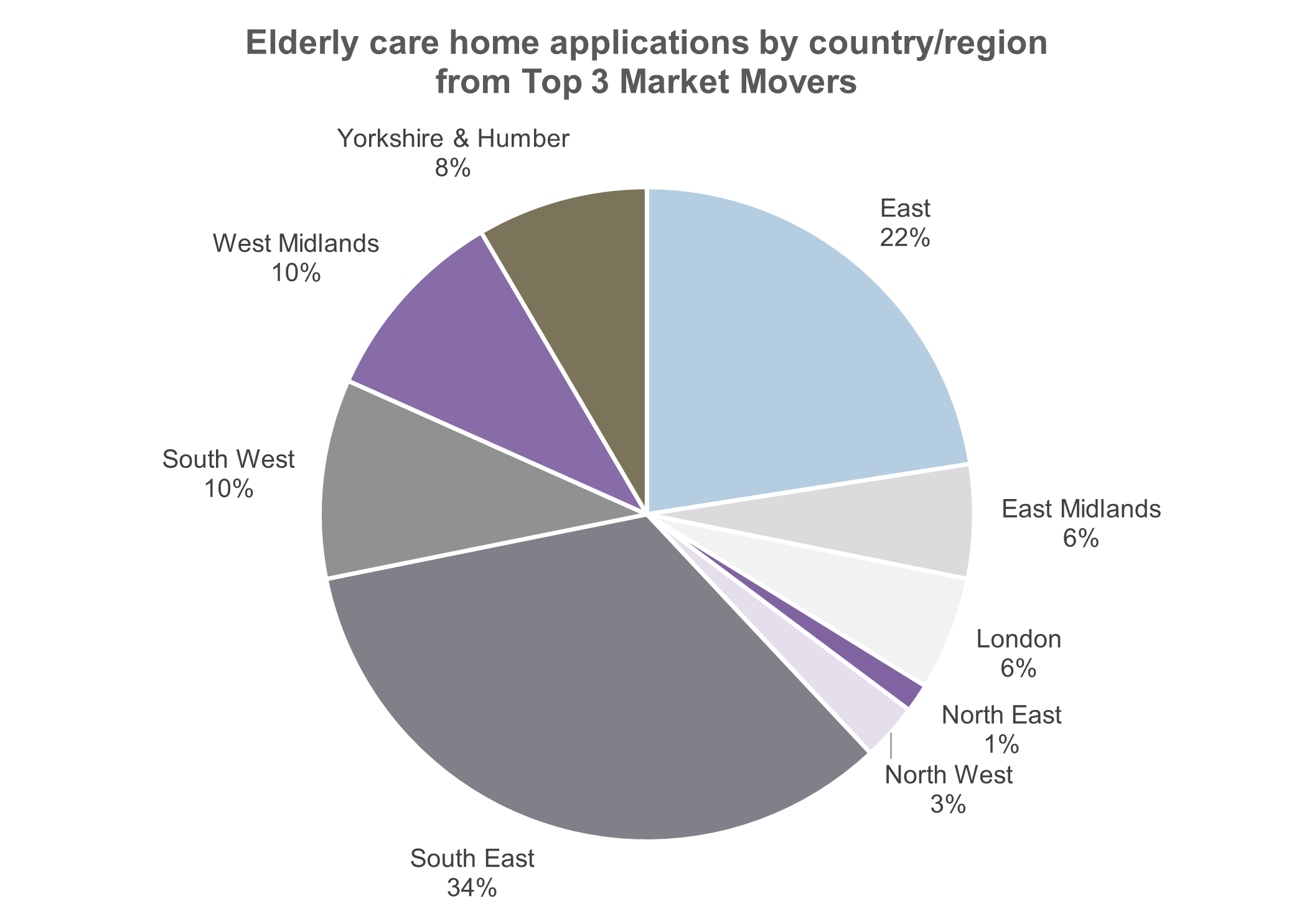 Looking for sector specialist market analysis and planning advice? Let's talk
Carterwood are experts in the market analysis and planning arena for elderly care homes and are proud to have been working with the top Market Movers 2022 for nearly a decade.
We are here to support you in your planning and development journey, from initial market analysis with our online platform Carterwood Analytics | Elderly Care Homes, or direct in-depth analysis from our specialist team, through to need evaluation, alternative site assessments and support at appeal, if required.
For more information on Carterwood's market analysis and planning support services for the elderly care home sector, please visit:
Request our latest planning research report for free
Explore how the planning pipeline for new-build elderly care homes has changed over the last 5 years as we assess…
How volumes of applications have changed
The degree to which decision favourability has shifted
Whether decisions are being returned slower
Changes in average scheme size being applied for
Please click here to request your copy of our latest elderly care home planning research