You may have spotted that we recently launched our Carterwood Market Movers 2022 research, celebrating those who are aiming to redress the supply and demand imbalance in the older people's housing sector with their new planned developments.
Highlighting the organisations that are poised to bring essential new capacity to sectors that urgently need it, our Market Movers 2022 research ranks developers and operators by their planning activity throughout 2021.
You can find out more about our wider Market Movers 2022 research by clicking here, where we reveal…
Our top Market Movers 2022 in the older people's housing sector
What changes have occurred since our Market Movers 2020-21 release
Where our Market Movers 2022 are developing across the UK
However, in this article, we take a closer look at our top 3 Market Movers for the older people's housing sector, exploring what trends they are noticing, how these trends are changing the way they are planning, and shining a light on their future plans.
Quick links
Our top 3 Market Movers 2022 racked up an impressive 90 applications that were either granted or validated (and still pending), totalling5,750 units and accounting for 30.3% of all 2021 planning activity identified within our older people's housing Market Movers 2022 research.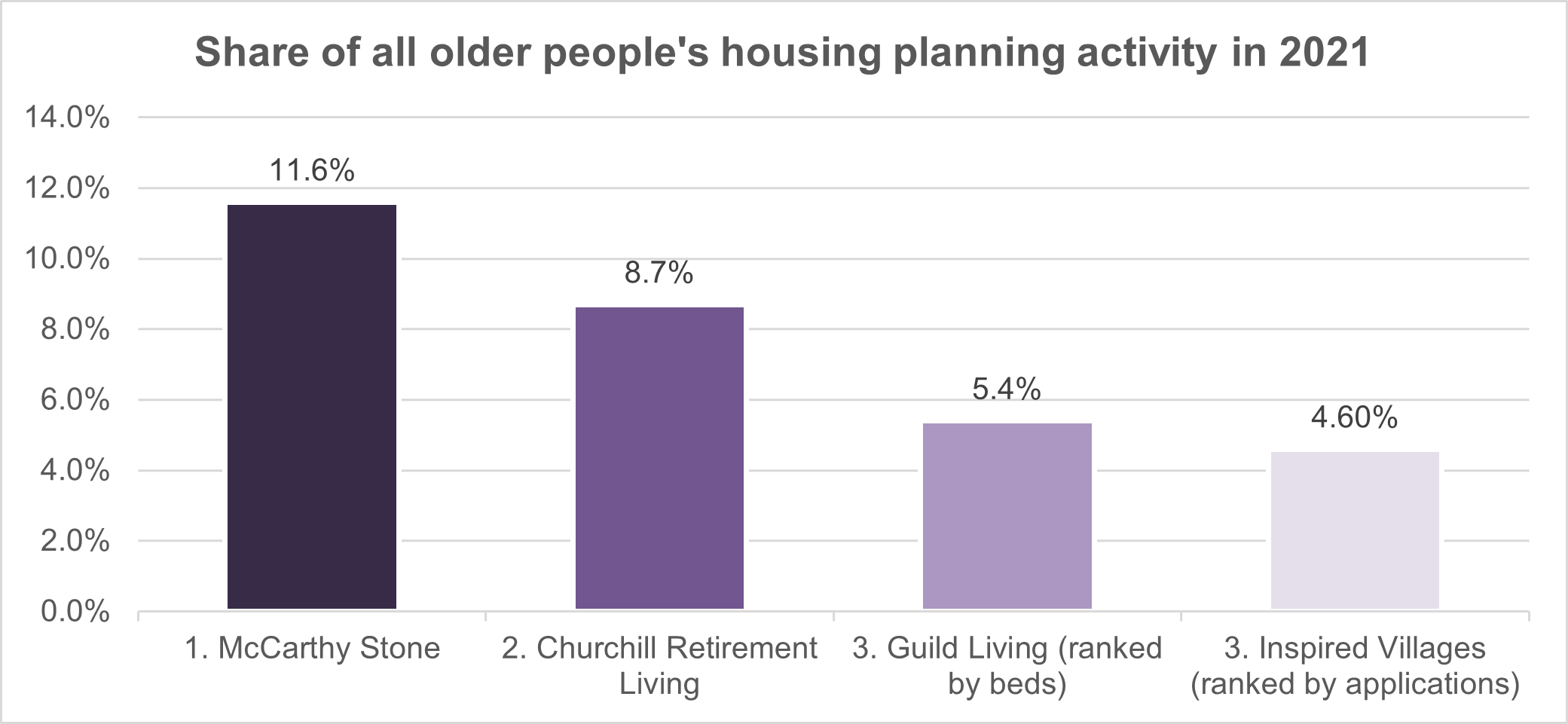 1. McCarthy Stone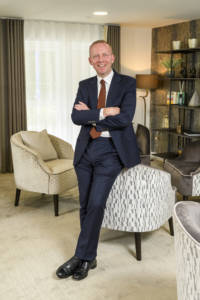 We speak to John Tonkiss, chief executive at McCarthy Stone, about his thoughts on how planning is changing, and McCarthy Stone's plans for the future…
"We are delighted to be recognised as the top market mover in the retirement sector. There is a growing need for better housing options, care and support for older people and we want to play our part in addressing this. This recognition shows we are heading in the right direction, bringing forward more sites for high-quality retirement communities across a range of tenures and with flexible services to improve the lives of our customers."
What trends have you noticed over the past year or so, and how are these changing the way you are planning?
"Planning has certainly become even more challenging. The length of time local authorities are taking to decide our applications is growing – it should be 13 weeks but it is often taking over a year, with many local authority planners still working from home since the pandemic.

It is hard to make investment decisions with these types of delays, and it is limiting much needed supply in this important sector. We would like councils to make housing for older people a much greater priority as we know there are billions of pounds of investment waiting to be deployed in this market, if it had an encouraging regulatory environment.

Our aim is always to achieve a local planning consent, but if councils are going to take a year to decide applications, we will be forced to make greater use of the appeal system."
What are McCarthy Stone's plans for the future?
"We want to continue to lead the retirement community sector and continue to innovate our products and services. Our aim is bring forward 60 new sites a year, opening 2,500 new retirement properties a year for our customers.

We are working to increase the affordability of our products and will shortly launch an affordable shared ownership option. We will also look to build 50% of our future sites using modern methods of constructing, which will help our schemes to be cleaner, greener, and more affordable. Finally, we will also continue to expand our regulated care and support offering to provide long-term assistance for our customers."
McCarthy Stone currently have 46 schemes coming to the market soon, including a recently approved new flagship, fully integrated, urban retirement village in Wimborne, Dorset. The £41 million development will deliver a sensitively designed scheme of 67 high-quality one-and two-bedroom extra care apartments, 32 extra care bungalows and two-storey chalets in a range of tenure options as well as nine open market houses, set in spacious and beautifully landscaped surroundings to create an attractive, supportive, and vibrant retirement community.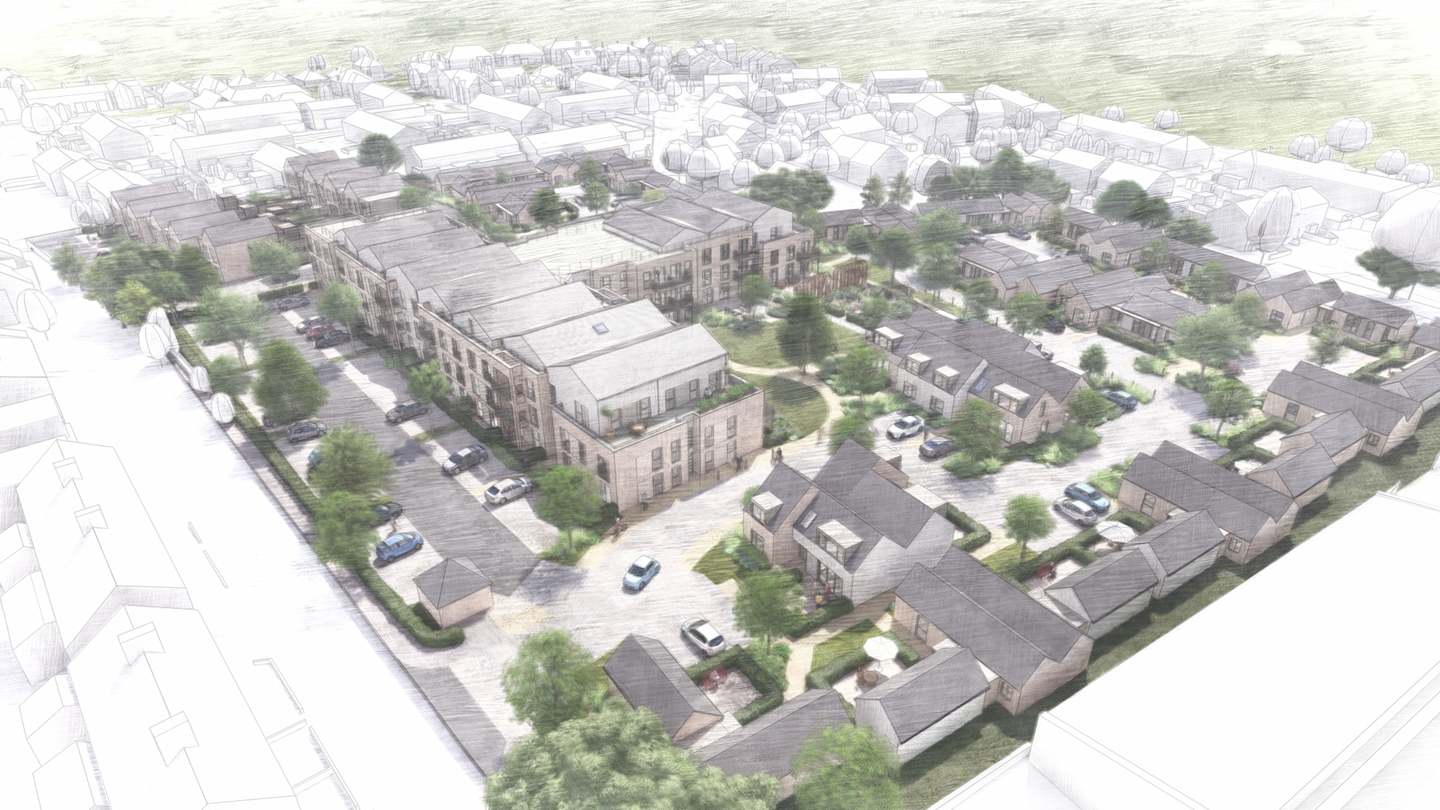 Image: McCarthy Stone
2. Churchill Retirement Living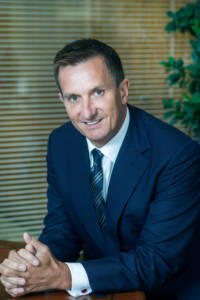 We speak to Spencer J McCarthy, chairman & CEO at Churchill Retirement Living, to hear his thoughts on how planning is changing, and Churchill's plans for the future…
"It's great to be recognised as one of Carterwood's top Market Movers. The benefits generated by retirement housing are great, both for individuals and their families, by creating environments for older people to live happier, healthier, more independent lives, as well as the economic boost these communities bring with them. Building more of this type of housing will play a key part in our country's future."
What trends have you noticed over the past year or so, and how are these changing the way you are planning?
"Our prospective buyers are looking to put the pandemic behind them and make a positive change for the future. Many of our customers have reassessed their needs and priorities over the past two years and are ready to make a change to improve their quality of life. Since the lifting of restrictions, we've seen confidence amongst our customers restored and this gives us great confidence in our growth plans."
What are Churchill's plans for the future?
"Churchill has ambitious plans for the future, with our Growth Drive '25 initiative, a strategy to deliver over 1,000-unit sales in a single year by 2025. To achieve this, we are looking to invest £800m in new sites over the coming years, and we have recently opened new offices in Warrington and Bristol to support our growth plans.

Given the huge benefits retirement housing can generate for individuals and their families, building more of this type of housing will play a key part in our country's future. Our growth plans will help to realise more of these benefits, enabling many older people to live happier, healthier, more independent lives. By doing this we can also create new jobs, regenerate local high streets, and deliver new communities that give an economic boost to towns and cities across the country.

The recent launch of our Northern Region with our new office in Warrington gives us a strong base to expand our presence across the North of England, where the growth opportunities for Churchill are significant."
Churchill Retirement Living have a large number of schemes currently awaiting planning permission, with one of their most recent granted schemes being in Brackley, Northamptonshire, for a collection of one and two bedroom retirement apartments along with a communal owners' lounge and coffee bar.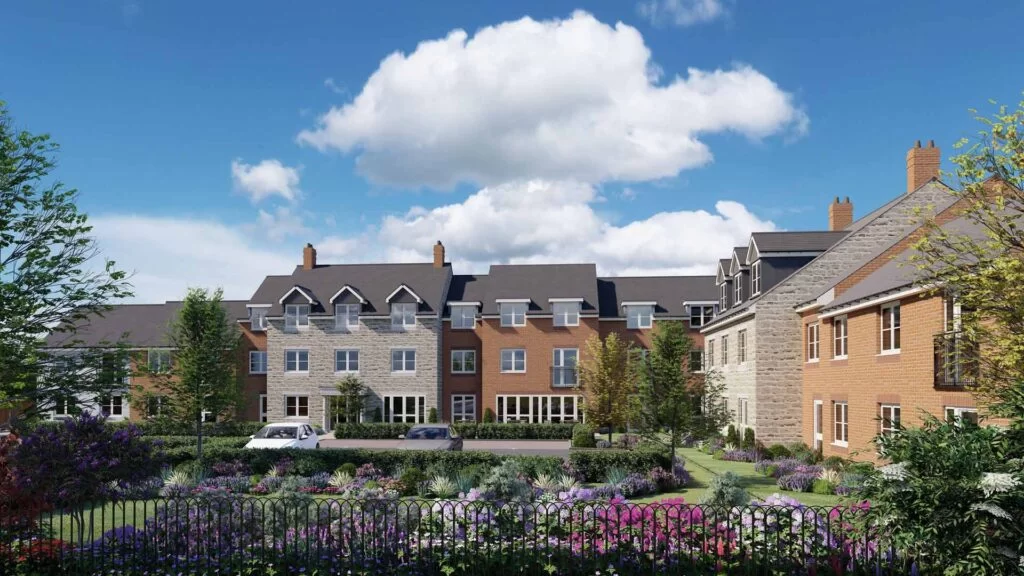 Image: Churchill Retirement Living
3. Inspired Villages Group (by number of new build schemes)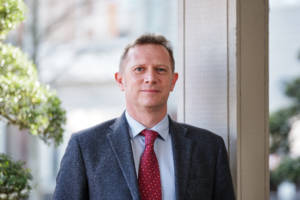 "It's great to be recognised as a top 3 Market Mover in Carterwood's older people's housing ranking for 2022. There is a critical undersupply of specialist accommodation for older people in this country and at Inspired we're proud to be working with Legal & General and NatWest Group Pension Fund to address this issue. Our aim over the next 15 years is to grow our portfolio to 34 retirement villages, providing homes for over 8,000 older people."

Neal Dale, development director at Inspired Villages
We speak to Stuart Garnett, land & planning director at Inspired Villages, to hear his thoughts on how planning is changing and Inspired Villages plans for the future…
What trends have you noticed over the past year or so, and how are these changing the way you are planning?
"Planning is not simple, especially in our sector, and it can take a long time to get a planning application though the system. Inspired Villages has a good track record of achieving planning permission in about 35 weeks on average, which is still a lot quicker than many, according to Carterwood's recent planning research for the housing with care sector.

The sector is trying to keep up with demand but is held back by delays in the planning system. Like many developers and operators, we always seek to liaise with the local authority, often for many months, prior to submitting an application. However, it is not unusual for the application to still take nearly a year to achieve permission, longer if you need to go to appeal, and only then can we begin construction – which unsurprisingly takes longer than normal house building. We are also aware that there is often local resistance to integrated retirement community developments; local councils and residents are understandably protective of their neighbourhoods and are wary of new developments. We take the time to engage with local authorities, community groups and residents and communities, share our housing model, which many wouldn't have come across before. This process is incredibly time intensive, and we pride ourselves on doing things right, for both our future communities and our investors.

Government needs to clearly direct local authorities on how to they should process applications for integrated retirement communities. Lack of guidance is driving the increasing tendency towards applications going to appeal; however, it is reassuring that the number of those achieving planning permission is high, albeit often with a lower number of units.

There is now a wealth of appeal decisions where considerations such as the need for housing with care, the demand for housing and land supply, the economic benefits and NHS and social care savings have added significant weight to the appeal decision. This has given us, and the sector, more confidence to invest in sites that might otherwise have been too high a risk, in the knowledge that we are likely to achieve planning permission at appeal.

We are already seeing a growth in the size of scheme, with some of our applications being for up to 180 units, or most recently for up to 330 units. We are also submitting applications for much smaller schemes to match the size of the demand in different locations – which often leads to a polarisation in scheme size. There is no 'one size fits all' approach, and we must be responsive to developing what that local market wants and needs, which gives us the latitude to be flexible."
What are Inspired Villages' plans for the future?
"It's an exciting time for Inspired Villages. Following a period focusing on joint ventures and acquisitions, we are now concentrating on our planning pipeline and have several sites looking to exchange over the coming weeks and months.

Like many other operators, during the height of the pandemic we diverted resources to protecting our residents, and coming out the other side we are now seeing an increase in sales. I see this driving a steep recovery for the sector, with an increased number of developments, some of which were held up during the pandemic.

Trying to achieve a balance between economies of scale, what with the increasing cost of land and construction, and the vision to create intimate communities, will always be a challenge but Inspired Villages has been successful in adding to our development pipeline and securing planning consents for new integrated retirement communities across the UK.

In 2022, we'll go even further, with the acquisition of more sites and the submission of our highest number of planning applications as we work to deliver a significant number of sites as part of our ambitious plans through our joint venture with Legal & General and NatWest Group Pension Fund.

The sector is still learning and developing, and as it matures, we will need to evolve and adapt our developments, services, and facilities to our changing clientele, both those who are already living in our villages and the next generation of future residents. This is an exciting opportunity to enhance what we can offer our older communities, and help the sector thrive."
Click here to explore Inspired Villages latest development, Millfield Green in Caddington, one of the UK's first net zero carbon regulated energy retirement villages. The first phase of the development commenced on site in March 2021 and is due for completion in November 2022.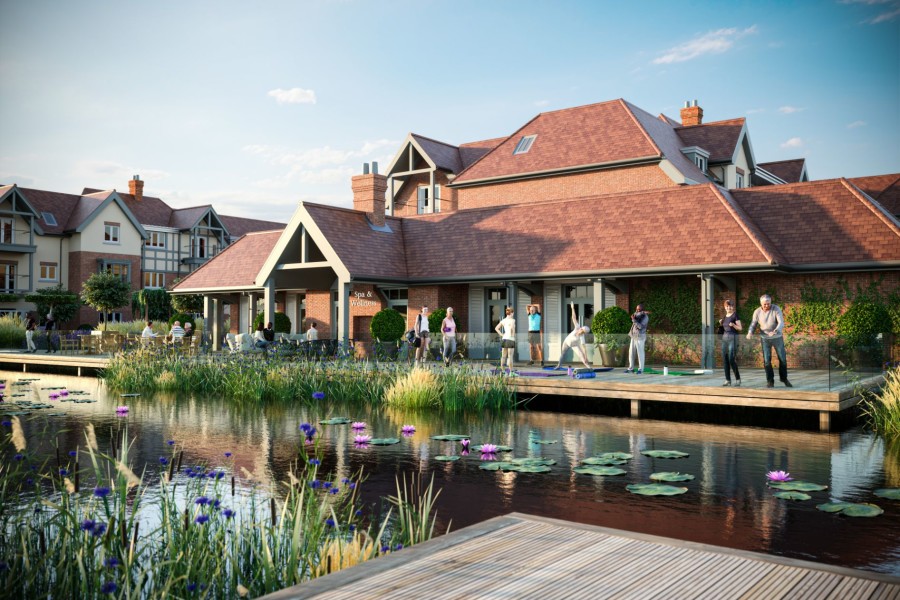 Image: Inspired Villages
Where are our top Market Movers 2022 focusing their future development?
Here, we reveal where our top 3 Market Movers have submitted planning applications across the UK. This is largely reflective of the wider trends of the older people's housing market, which you can explore in our Market Movers 2022 research; however, there are a couple of interesting differences when comparing our top 3 Market Movers' planning activity to that of all older people's housing operators and developers.
The top 3 Market Movers have a far greater focus on the historically dominant region of the South East, accounting for 40% of all top 3 Market Mover planning activity in 2021, compared to 26% of all Market Mover planning activity
This is balanced out by having less planning activity in areas such as the East (-3%), the North West (-3%), and Yorkshire & Humber (-2%), whilst not having submitted any planning applications in Scotland, Northern Ireland or Wales during 2021, a trend also seen by our top 3 elderly care home Market Movers 2022
The South West is the third largest focus region, with 12% of top 3 Market Mover planning activity, compared to the region's joint fourth position (9%) for all Market Mover planning activity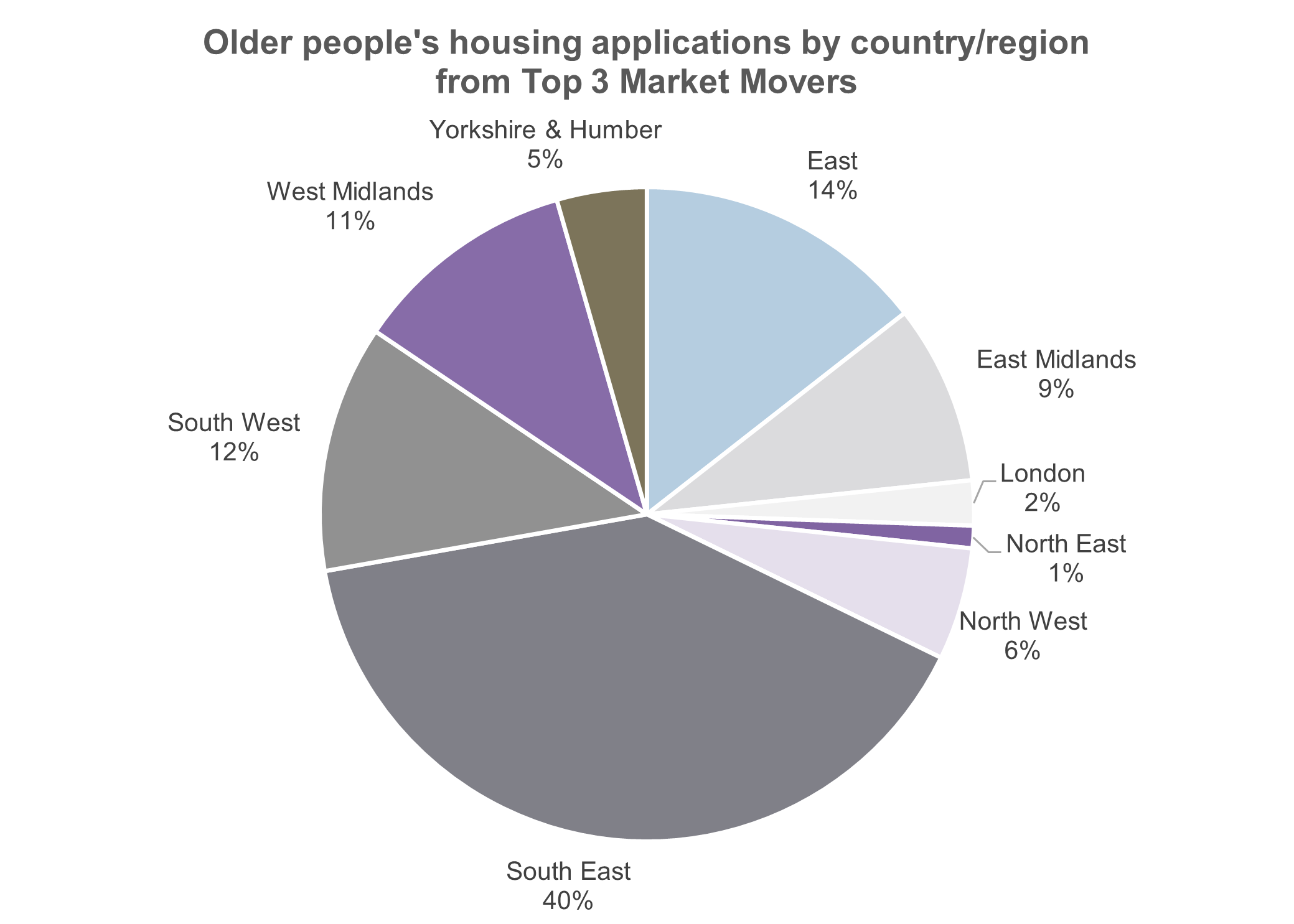 Looking for sector specialist market analysis and planning advice? Let's talk
Carterwood are experts in the market analysis and planning arena for older people's housing and are proud to have been working with the top Market Movers 2022 for nearly a decade.
We are here to support you in your planning and development journey, from initial market analysis with our online platform Carterwood Analytics | Retirement Living, or direct in-depth analysis from our specialist team, through to need evaluation, alternative site assessments and support at appeal, if required.
For more information on Carterwood's market analysis and planning support services for the older people's housing sector please visit:
Request our latest planning research report for free
Explore how the planning pipeline for new-build housing with care schemes has changed over the last 5 years as we assess…
How volumes of applications have changed
The degree to which decision favourability has shifted
Whether decisions are being returned slower
Changes in average scheme size being applied for
Please click here to request your copy of our latest housing with care planning research