Today marks the start of Mental Health Awareness Week, an annual event hosted by the Mental Health Foundation, which seeks to promote good mental health across the UK. Now in its 21st year, the event has grown to become one of the biggest awareness weeks in the UK.
Here at Carterwood, mental wellbeing has been at the top of the agenda for many years. However, after a year that has prompted such turbulence in so many people's lives, we take the time to reflect and share how we promote good mental health within the business and how our team are embracing this year's theme of 'nature'.
Mental health – a snapshot
Mental health is a lifelong journey, and although many are lucky to maintain good mental health through simple actions,  for others it can seem like a juggling act of balancing multiple roles and responsibilities alongside tackling difficulties such as anxiety, depression, bipolar disorder, schizophrenia and/or stress.
Mental health problems can arise at any stage in a person's life, and can be triggered by many different socioeconomic, cultural, and environmental factors.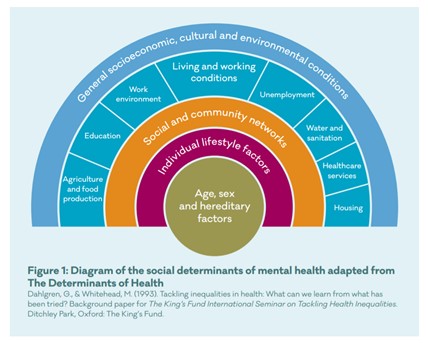 Source: Mental Health Foundation
Although mental health difficulties can affect anyone, the Mental Health Foundation identify groups that experience a higher prevalence of mental health problems, such as black, Asian and minority ethnic groups, refugees and asylum seekers, people with a learning disability or physical health problem, LGBT people, carers and those that are experiencing domestic violence, homelessness or substance misuse.
Mind highlight that 1 in 4 people in England will experience a mental health problem of some kind each year, whilst 1 in 6 people report experiencing a common mental health problem in any given week. In Britain, mixed anxiety and depression is the most common mental disorder, with 7.8% of people meeting the criteria for diagnosis, and 1 in 6.8 people experiencing mental health problems in the workplace (14.7%) (Mental Health Foundation).
With such eye-opening statistics, enabling good mental health needs to be at the top of the agenda, both personally and in business.
Putting mental wellbeing at the heart of the business
Mental wellbeing is a priority at Carterwood, where what was initially a small business has grown into a thriving organisation, where each team member is treated as a company family member. With the team seemingly growing by the month, keeping in tune with each team member's wellbeing can be a challenge, but the team here at Carterwood like a challenge.
Since the start of the pandemic, the Carterwood team have adapted to become 100% remote working, which for some has been a wonderful change, enabling more time at home with loved ones; however, for others, we appreciate that navigating back-to-back online meetings and managing relationships at a distance may also have a significant impact mental health.
We at Carterwood believe that giving our team the right support around mental health issues is crucial, especially after the events of the past 14 months, and this has been a big focus for Carterwood's leadership team. One way Carterwood is addressing the mental health needs of the team is via an online engagement platform, OfficeVibe. This platform enables everyone in the team to give feedback anonymously on a weekly basis across a range of categories, including wellness and happiness, which according to Amanda Nurse, managing director at Carterwood, are the most important metrics.
"For me, it's important to recognise that our team is made up of individuals with different mental health needs and one size does not fit all.  A positive working environment encompasses a level of respect, empathy and overall understanding between the team members. These sentiments can also foster collaboration and help you feel heard and valued at work." Amanda, managing director at Carterwood
As a result of the team engagement on Officevibe, Carterwood have taken action, with the following initiatives to boost wellbeing adopted to date:
Increased flexible working and given team members the opportunity to take extended lunch breaks to enjoy daylight hours
Introducing virtual coffee breaks, ensuring the team remain connected
Implemented a team-wide water cooler chat online
Started virtual walks to help the team connect with nature and each other
Kickstarted a 'Wellness Wednesday' campaign where team members take turns to share wellness initiatives and inspire others
Offering the opportunity for team members to complete a mental health first aid course
"To me the most important point around mental health at work is to make sure everyone has a voice and can genuinely facilitate change, and Officevibe provides the senior leadership team with that direct feedback." Lucy, people manager at Carterwood
All this helps build a workplace that acknowledges and respects the importance of mental wellbeing and takes action to improve the welfare of the team; something that is clearly evidenced in our employee Net Promoter Score of 8.7.
Mental Health Awareness Week: Connect with Nature
This week, from the 10th to the 17th of May, is Mental Health Awareness Week; a cause that Carterwood feel very passionate about. With the challenges of the past 15 months, and with the whole team still working remotely, the need to recognise and promote the value of good mental health has never been more important.

This year's campaign is 'connect with nature', a concept that we believe will unite everyone. After a year of isolation and staying at home, we think it is fair to say that we have all become much more familiar with our immediate surroundings and have taken the opportunity to explore what is on our doorstep.
Mark Rowland, chief executive of the Mental Health Foundation, comments;
"Mental Health Awareness Week has grown to be one of the biggest awareness weeks in the UK. This year the theme is on nature and its central role for our mental health.  Since the beginning of the pandemic, millions of us turned to nature to help us get through lockdowns and our research shows that good mental health depends on us being able to connect with nature in some way and its power in both prevention of and recovery from poor mental health."
The Carterwood team are avid lovers of the great outdoors. Many of us enjoy exercising outside, relishing the endorphins of a fast paced run, a riverside cycle, a bracing wild swim, or a heart pumping Nordic walk. Others prefer a slower pace, with a gentle countryside walk or just taking the opportunity to simply sit quietly and let nature settle around them.
One thing unites us; nature has the powerful ability to hit the reset button, both physically and mentally.
In support of Mental Health Awareness Week, Carterwood are taking on the challenge to:
Experience nature
Share nature
Talk about nature
All this week, the Carterwood team will be out and about, getting up close and personal with nature and sharing their experiences with you and the team. Be sure to keep an eye on our LinkedIn and Twitter accounts to enjoy daily nature updates from the team.
Buy why wait for nature to come to you? Here are some top tips from the Carterwood team on how to connect with nature and boost your mental wellbeing.
Top tips from the Carterwood team on how to connect with nature
Don't let the weather or the time of day put you off Come rain or shine, day or night, brave the outdoors, embrace nature and take time to stand still and see what it can offer you.
Take 'clarity breaks' Set aside dedicated time away from your usual work environment to take a step back, think about your goals and re-focus on what is important.
Make time for nature in your personal timetable Schedule in dedicated time to connect with nature every day, even if it's just for a short walk.
Take a virtual walk with a colleague All that chat you would usually do around the coffee machine is important. In this age of working from home, take your chat outside and catch up with colleagues on a virtual walk together.
Capture the things that take your breath away Take a quick photo of the things that catch your eye, and place yourself back there when you look at the photo later.
Get your gardening gloves out! What can you see from your window? The calming influences of a garden are well evidenced, so whether you are a flower fan or a veggie plot enthusiast, get growing and nurture more than just your wellbeing.
Take your cuppa outside Next time you pop the kettle on, take your cuppa outside – even if it's just to your garden or front doorstep.
Leave the headphones at home Keep your ears free to listen to the sounds of nature, the wind in the trees, evening bird song or the sound of rain.
Ask yourself…can this be done outside? If the answer is yes, then do it!
Stop, look and listen One of the hardest things to do in life is stop. Give it a try and see what you see and hear.
"Take time to look, listen and feel the world around you. It is much bigger than we are and the things we are doing. We all need to stop and take a breath sometimes." Jessamy, Carterwood associate
Nature: the workspace of the future?
The pandemic has prompted many changes, both at home and within the workplace. As we tread the path to find the 'new normal', Carterwood believe that COVID-19 has offered the opportunity to challenge and revolutionise the norm; allowing us to consider truly inclusive solutions as we work on our roadmap to our future working environment and personal development, post COVID-19.
"COVID-19 provides us with the potential to revolutionize the way, when, and how we work, so we can take our client service to the next level. For me, going back to how we used to work does not serve the mental wellbeing of our team." Amanda, managing director at Carterwood
At Carterwood, we want the future to be about having discussions over a picnic and debating new ideas whilst discovering new places to visit and eat, not just meeting in an office. We believe that coming together in different places will help us to offer more creative solutions to our clients.
Let's embrace working in a new and different way; this has to be good for our mental health.