Since launching in April 2019, our digital platform for care home market analysis Carterwood Analytics | Elderly Care Homes, has helped developers, operators and investors explore over 54,000 sites across Great Britain. With all the tools needed to stay ahead of the game and instant access to detailed supply, demand, wealth, and fee data, subscribers can analyse markets at the click of a button – saving time by focusing only on the best opportunities.
So, as the platform reaches its third birthday, we consider how Carterwood Analytics has helped our clients grow their businesses.
We asked market-leading care home developers Care UK what they think of Carterwood Analytics | Elderly Care Homes, and here's what they had to say…

Background
Care UK is one of the UK's leading care home providers, supporting over 8,000 people in over 150 care homes across England, Scotland and Wales. Established in 1982, Care UK is a multi-award-winning provider, delivering a range of care services, from residential and nursing care to day care, respite care, dementia care and end-of-life care.
The challenge
With 40 years' experience in the care sector, the Care UK team were keen to expand their existing knowledge of the market and improve the level of information they were using in decision making.
With a growing portfolio and so many sites to consider, it is essential that the Care UK land team focus their resources on the best opportunities, to save time and improve strategic decision-making on which sites to progress with.
The solution
Care UK joined as a Carterwood Analytics subscriber in 2020, choosing an unlimited package to best suit the number of searches they wished to make and the number of users they wanted to be able to use the platform.
The team at Care UK quickly identified that the market snapshot view, the fee rate analysis tools and the market tracker tools were invaluable, to both provide an overview of the market and assess development opportunities.
Let's take a look at these features:
The market snapshot view provides a clear picture of the market, highlighting opportunities and potential risks though a range of key market indicators (KMIs), including:
Bed requirements (all, en-suite and wetroom)
Demand & demographics
House prices
Approximated social grade
Staffing market size
Registered nurse staffing nationality
Supply quality
Planned supply
What Care UK and other subscribers find particularly valuable is that the base year of these KMIs can be adjusted, offering a looking glass into the potential of future markets, which is ideal when projects or developments are not due to be completed for a few years. Care UK particularly enjoy being able to quickly and easily view snapshots of each and every market they are interested in, giving them market-leading insights from both a business development and an operational perspective.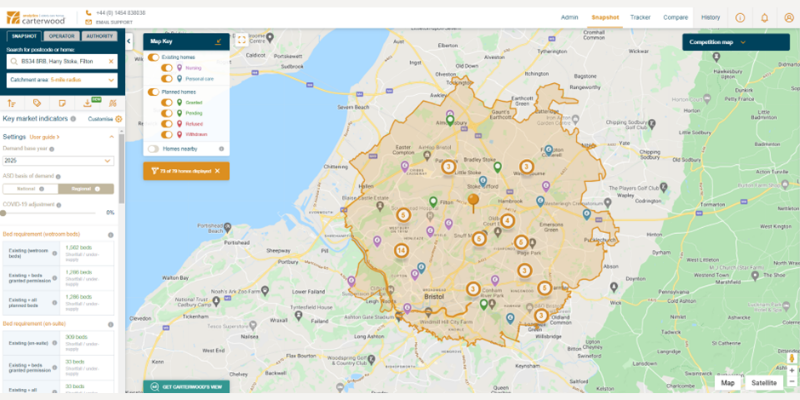 Above: Snapshot view in Carterwood Analytics | Elderly Care Home
The fee analyser enables subscribers to analyse catchment area fee data for both nursing and personal care (including dementia care) and compare fees by first registration rate, ownership type and CQC rating, and to benchmark against fees GB-wide, regionally or against those of an operator. Care UK closely monitor the fee rates of nearby homes alongside the supply and demand profile of the market as a whole to help inform their decisions in key markets, in particular the rollout of modern facilities in their care homes.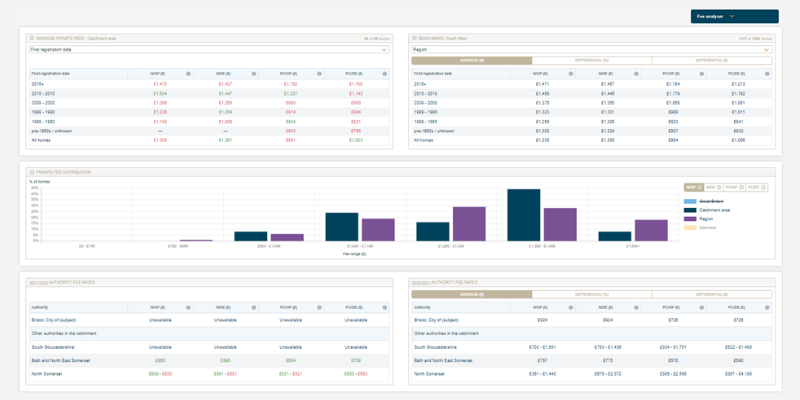 Above: Fee analyser in Carterwood Analytics | Elderly Care Home
The market tracker tool enables subscribers to register for weekly updates about the markets that matter most to them. receiving the most up-to-date information available about new planned care homes.
Details of new planning applications, changes in planning application status, new homes opening, changes in CQC rating, extensions of 10 or more beds and changes in registration type, are all sent direct to subscribers' inboxes ensuring subscribers don't miss anything that could affect their plans.
"Carterwood Analytics enables us to access key market information in a quick and easy to read manner. I particularly value the ability to track markets to see if the outlook within each market is changing, it saves us a lot of time and stops us having to do manual exercises to track each individual market. Carterwood Analytics has expanded our knowledge set and enables us to provide a more in-depth assessment of each location within a very quick time period."

Michael Shea, Senior Development Manager at Care UK

Above: Tracked markets weekly email update from Carterwood Analytics | Elderly Care Home
From data to development
Michael Shea, Senior Development Manager at Care UK, commented that the platform specifically helps with Care UK's site acquisition projects.
"Carterwood Analytics allows us to assess if a location would work from a market perspective, in particular the demand/supply profile of the catchment area. The platform assists with development appraisals when making decisions on large scale projects and, given the extensive datasets that Carterwood use, you can place a large level of trust in the information."
Care UK has now performed over 2,300 searches on Carterwood Analytics | Elderly Care Homes and now use it as their first port of call when exploring any new, or revisiting existing, markets of interest. As a complementary platform to the other tools that Care UK use to assess the viability of their projects, the range of sector-specific tools in Carterwood Analytics provide a detailed picture of both opportunities and risks associated with existing and potential markets.
Care UK has been a Carterwood client since 2009, in which time the team has proudly supported Care UK's growth plans with a range of sector specialist advisory services, including market analysis, planning support and acquisition advice.
It was fantastic to follow Care UK's amazing list of achievements in 2021:

Above left: Chichester Grange, West Sussex, opened December 2021. Above right: Dashwood Manor, Basingstoke, opened September 2021
Finally, we asked Michael Shea, Senior Development Manager at Care UK…
Would you recommend Carterwood Analytics to fellow professionals in the care sector?
"Yes, it provides quick and easy snapshots of each and every market providing market-leading insights from both a business development and an operational perspective."
What do you enjoy about working with Carterwood?
"I get a quick answer to everything, and my colleagues have always said how helpful the training has been to them. I like the simplicity of the extracted information and the level of information available."
Instant access to detailed supply, demand, wealth and fee data for every elderly care market in Great Britain and all the tools you need to stay ahead of your competition are at your fingertips!
So, what are you waiting for?
Click here to find out more about Carterwood Analytics | Elderly Care Homes, book a demo and sign up for a free five-day trial