Carterwood's specialist agency team, on behalf of Malvern Homes, developers new to the care home sector, have completed on the sale of a development site at London Road, Hailsham to Hamberley Care Homes.
The site, with outline planning permission for a 60-bed care home, is located on one of the main arterial roads into Hailsham, in an affluent area close to the town centre. Hamberley Care Homes were approached as part of a discreet marketing campaign and the sale completed in December.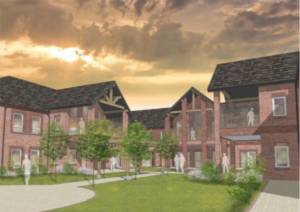 CGI supplied by C Squared Architects
Dr Bal Sidhu, director at Malvern Homes, comments: "We are delighted about our first sale in the care home market and wish Hamberley the greatest success going forward. We believe the sector offers great opportunities and look forward to working with Carterwood again in the future."
Tim Street, director and founder of Hamberley Care Homes, said: "We're thrilled to have secured this site for the development of another Hamberley Care Home.
"This prime location fulfilled all of our development criteria. It will allow us to provide a leading-edge luxury care facility, and create jobs, for the people of Hailsham and the surrounding area.
"We look forward to working in partnership with the local community in the months ahead as we move forward with plans to start construction."
Carterwood director, Tom Hartley, says: "We have been delighted to work with Malvern Homes and their team on their first development site sale, and believe this site creates the perfect opportunity for developing a high-quality care home. We wish Hamberley all the best with their continued growth."
For more information about Carterwood, please telephone 08458 690777, email info@carterwood.co.uk or go to www.carterwood.co.uk.