Carterwood have once again been honoured as one of the best places to work in property. Following success last year, and once again competing against some of the industry's giants, Carterwood have been successful in the 2019 'relationship with supervisor' category.
This award is especially meaningful as the category winners are decided based on the information provided via a comprehensive and confidential staff survey, investigating company credentials across a wide range of areas, including wellness initiatives, work–life balance, training and career development, and corporate culture and communications.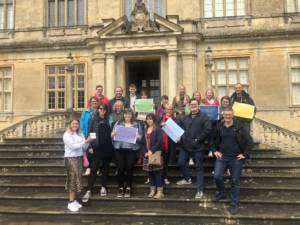 The Carterwood team outside Longleat House
Carterwood co-founder and managing director Amanda Nurse commented "Ben Hartley and I have always been very proud of the team at Carterwood, and it's wonderful to receive this confirmation that they feel the same way. Our team aren't afraid to take on responsibility, and we do our very best to support them and empower them to do just that. We work hard to make sure that everyone's voice is heard – and with such a talented team it's always interesting!
This award is a true testament to the strengths of each and every individual and how well they communicate and collaborate. We know that this positive and respectful work environment enables us to deliver the best possible service to our clients. We have a great team, and we're glad to have been able to celebrate this latest success with them, especially as the team organised a day at Longleat Safari Park to do just that!"
Carterwood provide solution-focused commercial due diligence as well as handling the sale and acquisition of property and businesses throughout the UK in the health & social care sector. To find out more about Carterwood and their services visit www.Carterwood.co.uk or telephone 08458 690777.