Carterwood analysts Ben Hartley (Director), Andrew Whyte (Senior Analyst) and Luke Sefton (Associate) have put planning data from the last 12 months for elderly care homes under the microscope in our latest piece of research.
This data includes applications that have been granted permission or are pending decision, giving us a view of how planning activity is spread around England and Wales.
The COVID-19 pandemic will unfortunately lead to the closure of a significant number of care homes in the UK and Wales (as well as across the rest of the UK) over the coming years, compounding the existing under-provision of market-standard beds. Our research forecasts the loss of 40,800 beds due to financial pressures, localised COVID-19 impact and asset obsolescence from January 2020 to December 2024.
Furthermore, COVID-19 has impacted care home markets at a local authority level with wildly different levels of severity. Some have been relatively unaffected, while others have suffered immensely. This makes it likely that there will be dramatic changes in provision in some local markets, with others remaining relatively stable. To understand what these markets will look like in the future, we've examined the potential provision that's currently in the planning system at a local authority level.
The 12-month snapshot to June 2020 (below) gives us a picture of recent planning activity, reflecting the care home development preferences of a largely pre-pandemic market. Over the coming months we'll seek to monitor correlations between planning activity and the COVID-19 experience of individual local authorities to understand the impact the pandemic has had on elderly care home provision within local care markets.
Care home planning snapshot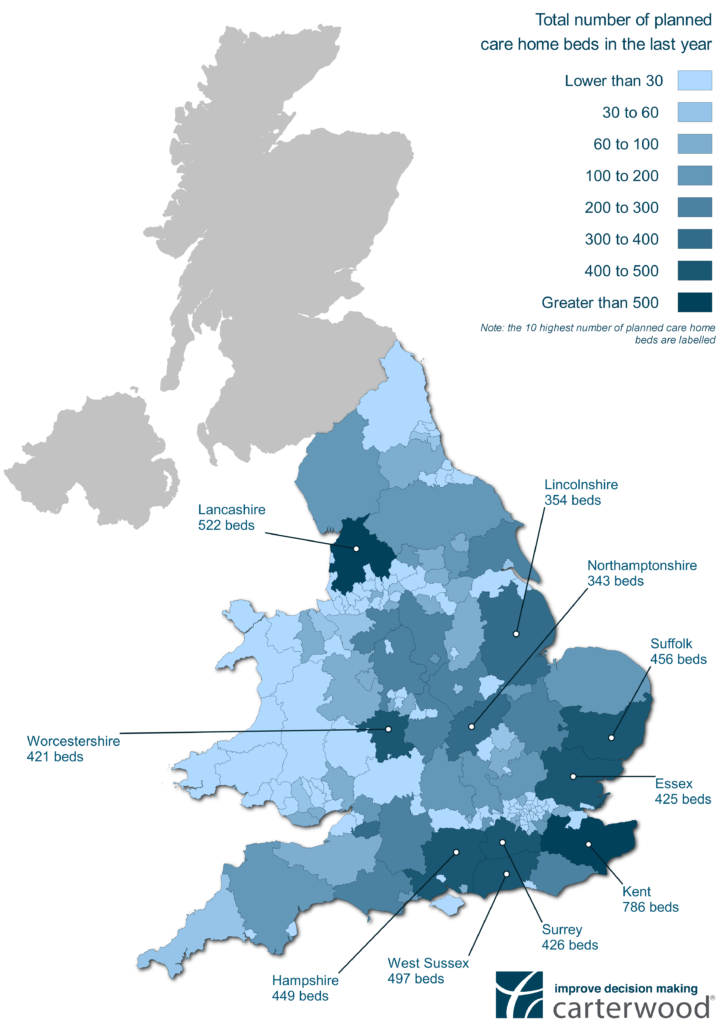 Key findings
Top 5 now includes Lancashire and Suffolk.
Typically, we would expect the most active areas of planning activity to be focused around South East England. However, in recent years we have seen many of the most active new-build operators look to enhance their presence in counties like Lancashire and Suffolk, as well as in areas in affluent market towns south of Manchester and around the county town of Ipswich.
The South East heartland of Surrey, Hampshire, West Sussex and Kent remain key target areas and all are in the top-10 for care homes
This is despite many parts of these areas being viewed by observers as "over-provided" due to the high volume of care home development activity post-2010. Clearly, developers and operators still consider that the risk of filling the homes is mitigated by the prospect of higher privately funded fee rates in these wealthier South East areas.
London still doesn't feature in the Top 10, despite the population density, demand for care and wealth profile.
This is likely due to the high barriers to entry, such as land values, but has the potential to shift as other property sectors suffer as a result of COVID-19.
Wales and the North (North East particularly) show very low levels of pipeline stock
This reflects the relative unattractiveness of these areas despite having the lowest levels of existing full market-standard wetroom beds in England and Wales. The primary driver for this lack of activity is relatively modest affluence levels, which create uncertainty for developers and investors that new-build homes will be viable at low baseline local authority fee rates, given high construction costs.
Table 1: England and Wales planning pipeline for care homes – 12 months to 15 June 2020
| Upper tier local authority | Total care home applications | Total planned net beds |
| --- | --- | --- |
| Kent | 24 | 786 |
| Lancashire | 15 | 522 |
| West Sussex | 14 | 497 |
| Suffolk | 12 | 456 |
| Hampshire | 16 | 449 |
| Surrey | 19 | 426 |
| Essex | 14 | 425 |
| Worcestershire | 9 | 421 |
| Lincolnshire | 13 | 354 |
| Northamptonshire | 10 | 343 |
If you'd like to discuss our research, please get in touch with Tom Hartley (Director) on tom.hartley@carterwood.co.uk or 08458 690777.