Whether you're fresh out of university or have several years' experience, making the decision to apply for a job is a big one. To help you understand what it's like to work at Carterwood, we regularly ask an employee to share their unique story.
Today, we're sharing our interview with senior analyst, Sam Sefton:
Tell us about your journey prior to joining Carterwood
I have always enjoyed maths, so chose to develop this by studying economics at the University of Exeter. I liked the smaller city vibe, and the course gave me the opportunity to undertake an industry experience placement. For my placement I was looking for real experience and opportunities to develop and grow my skills and I knew that I wasn't one of those people that wanted to head to London and work for a large corporate; I wanted to look for something closer to home. My brother Luke was already working at Carterwood and only had good things to say about the company. A placement at Carterwood offered me the chance to get involved with a range of different projects and work with different members of the team. I knew I was joining a company who considered me an equal.
Why did you choose to return to Carterwood after completing your degree?
It was an easy decision. My manager Alex asked me out for lunch halfway through my placement year and offered me a graduate job for when I completed my degree. The opportunity to return to a job I enjoyed and pick up where I left off, rather than starting as a new graduate, was irresistible. I knew that the work I had done during my placement was going to be considered and stand me in good stead, so rather than returning into a graduate research analyst role, I returned as an analyst. The company were keen to help me progress and kept in touch with me throughout my final year so that I could have a smooth return.
How has Carterwood supported your growth within the company?
Carterwood are very good at supporting your career; there is real focus on the people. From the first day, I was asked 'where do you want to go' and 'what do you want to be'. The message from the top down has always been very clear – if you want to develop, you will be supported.
I have been given many opportunities to explore different sides of the business, which has enabled me to progress in a senior analyst role and manage a small team.
Carterwood's organisational process (EOS) promotes the concept that the right people should be in the right seats (roles), so we are less attached to job titles and more driven by roles and accountabilities. The management team are passionate about people moving in the direction of their strengths and what they enjoy. So, in such a fast-paced growing company, people's roles quickly evolve.
What do you enjoy most about your role at Carterwood?
It has to be the variety. Whilst the process behind the research and data analysis remains consistent, each project will be very different. I love getting involved with clients, providing specialist advice that will help them develop their plans and I especially like getting out to sites in person to experience things first-hand. I also enjoy working as part of the team to deliver larger projects, such as our first-class fee research.
Carterwood has always been great for socials too, with a calendar of events to keep the team bonded. Our summer and Christmas socials are always a highlight and through lockdowns we have managed several virtual socials to keep us all in touch. I am really looking forward to when we can do them in person again.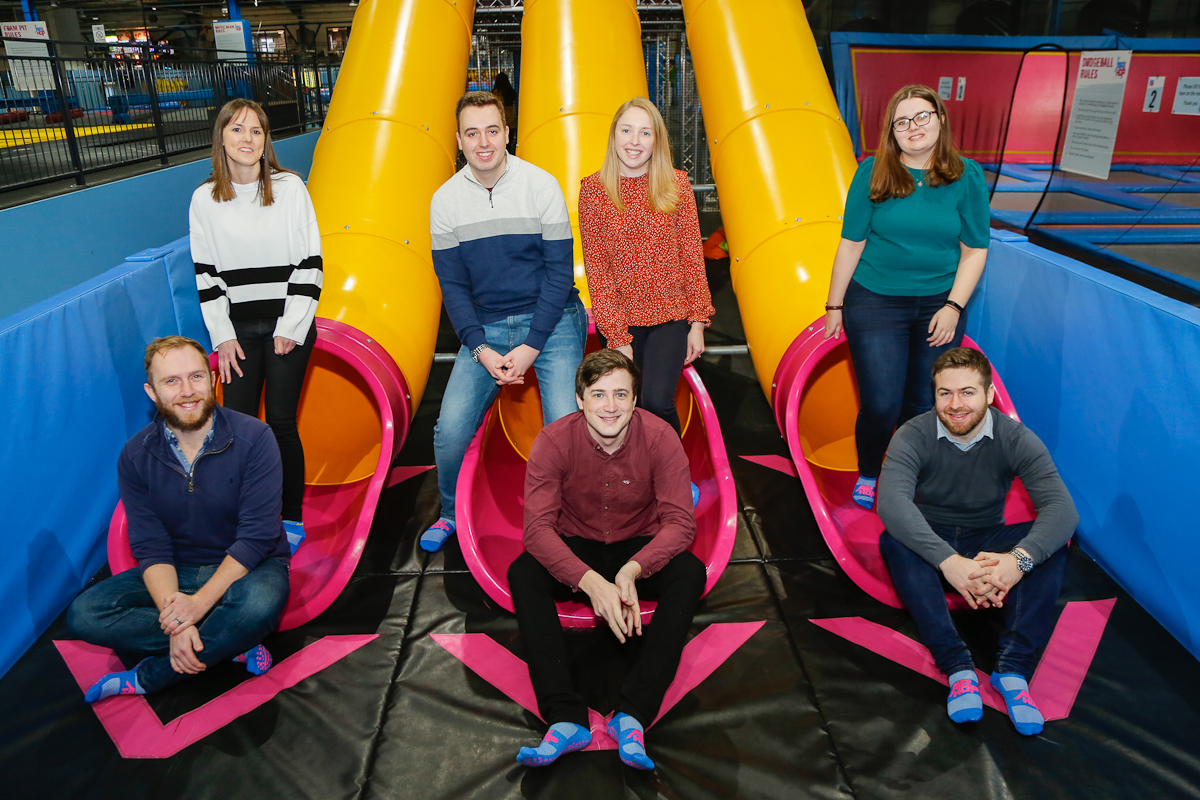 Some of the Carterwood team enjoying a team away day at Airhop
Can you share with me some of your key achievements during your time at Carterwood?
Whilst still on placement I attended the ARCO conference, which we sponsor and attend annually, and I was given the opportunity to run the workshops for Carterwood. Representing the company to 30+ attendees per workshop, who all had years more sector experience than me, was a challenge that I was proud to have succeeded at. Since then, I have also been given the opportunity to work on some large innovative projects for clients that were really rewarding; seeing my name on the front of a report for the first time gave a great sense of achievement.
More recently, I have been heavily involved with the fee research projects. Our fee research not only provides invaluable insight for our advisory clients, but it also drives the fee analyser feature of our Carterwood Analytics platform. This platform allows subscribers quick and detailed insight into self-funded care home fees in millions of markets. Being part of the process to gather the best fee data in the country was a great experience. I was able to step up into a project manager role, something that I am looking forward to continuing as we start our next round of fee data research.
Tell me about your role as a member of the social & wellness committee.
Carterwood's social and wellness committee has been established for several years and we manage the ongoing social calendar for the company. The company are passionate about engagement and bringing everyone together and use an employee engagement platform called Office Vibe, which monitors team members' wellness on a weekly basis. The committee often use the results from this to steer our decisions; everything from changes in the office environment to planning social events. Since the start of the pandemic, we have continued to monitor employee engagement and wellness, and our virtual socials and wellness sessions help keep everyone connected.
Outside of work, how do you enjoy spending your time?
I love reading, and although I am a massive fan of the Lee Child Jack Reacher books, I find myself more drawn towards non-fiction, especially geographical and historical books.
My favourite reads include:
I am also a keen follower of sports and love watching football, cricket and follow the F1, alongside other motorsports. My dream would be to go to an F1 race and to the Goodwood Festival of Speed.
Over the past year, our family dog Jasper, a golden Labrador, has been a blessing. We got him just before lockdown, so he is now 1 year old, and we have all enjoyed his puppy antics and watching him grow into the king of the house.
Since you joined in 2017, how have you seen the company change?
We are not a traditional advisory practice. The company is continually transitioning, and since joining I have seen the company re-focus on the products and services we offer clients; concentrating on providing sector specialist advice and developing our innovative Carterwood Analytics platform, which has really driven us forward.
Carterwood have also implemented Traction/ EOS over the past 18 months, which has fundamentally changed the way we do business and the way we operate. Everyone, in every department, has bought into this system, which will evolve the company, empower us and focus everyone on a shared vision.
When the pandemic hit, the company adapted instantly, allowing us to work from home overnight, which has been a massive change, but having Traction/EOS has kept us working towards the same goals.
What are your future aspirations?
Since joining, my role has changed a lot and I now have a small team to manage, which has given me a different direction. I always imagined myself having a more technical role and producing the output, but it's been interesting moving towards a management role, and I have enjoyed getting involved in the processes of the business. Over the next 3-5 years I would like to become more established in the advisory side of the business and work more closely on client projects.
What advice would you give candidates looking to work at Carterwood?
Demonstrate enthusiasm! Sector experience is not always essential, but you need to show an aptitude and enthusiasm for learning. Carterwood are looking for people that have a drive to achieve, are ambitious and are willing to take opportunities.
Be honest. If there is something you enjoy or don't enjoy – say so! Be honest in what you want to do and then we can make sure you are in the best role for you.
And finally, be ready to move at a fast pace!