Whether you're fresh out of university or have several years' experience, making the decision to apply for a job is a big one. To help you understand what it's like to work at Carterwood, we regularly ask an employee to share their unique story.
Today, we're sharing our interview with people manager, Lucy Thomas: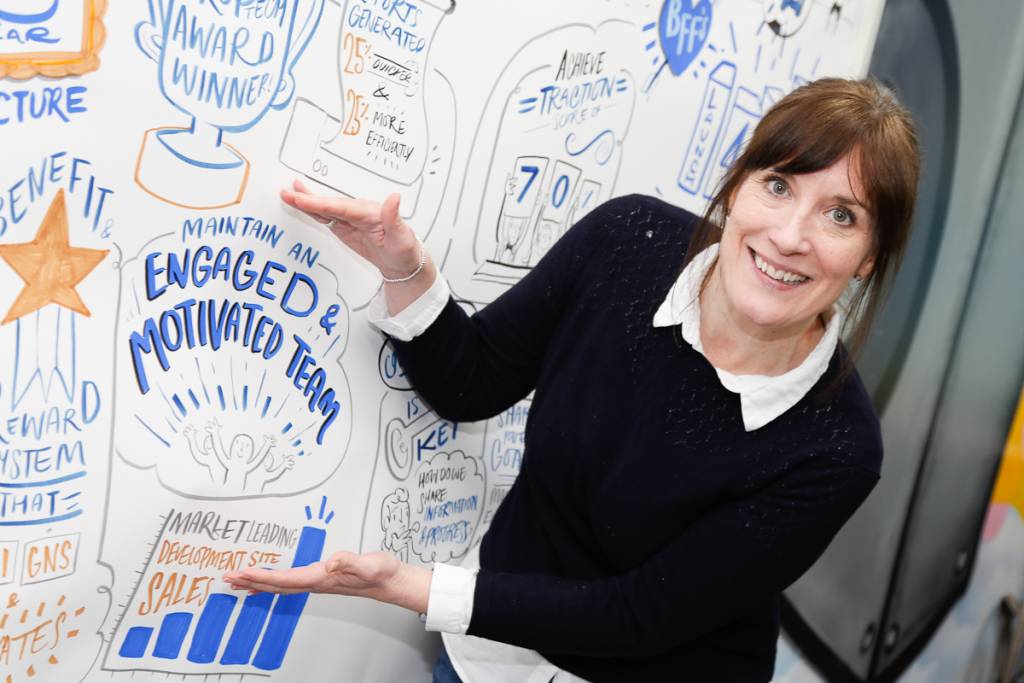 Tell us about your journey prior to joining Carterwood
I love working with people and have worked in HR for over 20 years. I spent many years with Endsleigh Insurance, which I really enjoyed, and left there to work for a small SaaS technology company. I really liked working for a small company with a passion for pace and growth, so when I wanted a change Carterwood was the perfect fit, and I joined the team in late 2019.
Why did you choose to join the team at Carterwood?
I knew I enjoyed working in smaller businesses, where decisions could be made and implemented quickly, and I was looking for a role that provided this as well as one that truly valued and respected its people. Carterwood offered both of these things as well as providing me with the flexibility that was also important to me.
What do you do at Carterwood?
My role is a generalist role, and I am responsible for all aspects of the employee lifecycle, from recruitment and onboarding through to employee wellbeing, performance management and everything in between.
Fundamentally, it all starts by ensuring that we have an engaged team who are given the opportunities to be the best they can be. This starts with ensuring that we are recruiting the best people that identify with our values and culture. From there, it is about providing people with a clear induction and onboarding programme so that they have the right skills and exposure to succeed. Our onboarding process makes people feel welcome and valued, even before they officially start.
At the end of the day, we want people to love the work they do and to give them the opportunities to be the best they can be.
How would you describe the work environment?
It is very collaborative and hugely progressive. Carterwood believe in challenging and revolutionising the norm, and that runs through everything that we do.
We want people to be able to work in the best way that suits them and recognise that everyone works in different ways. When decisions are made, it is not unusual for the whole team to be involved and listened to, ensuring that everyone's voice is heard, and all preferences are considered.
When it comes to people management, how does Carterwood engage and motivate the team?
Transparency plays a huge role in engaging and motivating the team. We put a lot of focus into building meaningful relationships, both with our clients and with our colleagues.
Everything is shared with the team, including company goals and strategies, which are broken down into departmental and individual goals. This means that everyone has a clear sense of where they are going, an understanding of how they are making a difference, and how their contributions fit in to the bigger picture.
We are also committed to monitoring employee engagement and satisfaction, using OfficeVibe to start conversations, creating a people-first culture and empowering employees to create change. This then enables the senior management team to direct strategic decisions that best support team engagement and development, which has earnt us an impressive eNPS of 79.
How does Carterwood develop and retain our amazing team?
We are committed to the belief that every team member should 'do what they love'. Alongside formal career development, we offer professional training, external mentoring, and the opportunity to gain industry recognised qualifications.
Perhaps that's why we are such a fast-growing company, increasing our team by 30% in the past year whilst promoting talent from within. For us, it's not just a job, it's about finding the right role for each team member, a revolutionary concept that promotes flexibility and the development of both the individual and the team.
We recognise that training and personal development are two very different things and have created regular innovation hubs to give all individuals time to pursue personal development goals and inspire innovation aspirations.
What do you enjoy most about your role at Carterwood?
In all honesty, I love the people. I enjoy the fast pace and that everyone is listened to; the company cares about what you have to say, and reacts quickly, if it's the right thing to do.
There will always be tricky times, but I think that the senior leadership team have got the right values, which is really important; I don't think I could work for a company where I didn't agree with the values of the senior leadership team.
What is on the horizon for you and the people at Carterwood?
Carterwood is a growing company, with a focus on the future. We have identified the areas that we want to focus on, and we recognise that to achieve our company goals, support our existing team and continue serving our clients and the care sector, we need to commit to investing in the people that will help us get there. In light of this, our recruitment plans have sped up recently and we are looking to soon bring on board a people administrator, a business development manager, a head of technology & data and a technical expert witness role. It is an exciting time for the company!
Outside of work, how do you enjoy spending your time?
In my spare time I love running (nothing too far though) and walking, and I am currently walking the Cotswold Way with friends to raise funds for Sue Ryder. My labradoodle, Juno, is a constant walking companion and would walk all day if she could. I love spending time with my family and adore the theatre and the ballet, but am still very partial to curling up with a good box set!
What advice would you give candidates looking to work at Carterwood?
Working at Carterwood is fast paced, which doesn't always mean high pressure, but it's got momentum, enthusiasm and a real buzz that you don't always get at other companies. So, if you get energy from that type of working environment and want to work for a progressive company, then Carterwood is the place for you.