Our very own Amanda Nurse – managing director and one of the founders of Carterwood – has been nominated for the Sector Specialist category in the HealthInvestor Power 50 awards. 
The awards have long been one of the key events in the health and social care calendar. For over a decade, this has brought together the leading individuals in the sector for an evening of celebration and networking. 
Amanda comments, "I am honoured that my fellow colleagues in the healthcare sector have nominated me for this award, and I thank them for believing me a worthy contender. My business partner (and co-founder) Ben Hartley and I recognise that everything we do as a company is a team effort, and wouldn't be possible without the help and support of every member of Carterwood.
The work we have done – and continue to do – in order to provide the required data intelligence to the industry and, more recently, an amazing new platform to the whole of the care sector, is carried out by a crew of talented and dedicated people, and it is only right that we all celebrate this honour together. 
I wish my fellow nominees Clare Connell, Bhavna Keane-Rao, Leonid Shapiro and Tony Stein the very best of luck and look forward to seeing them all on the night." 
The awards will be held at The Landmark in London on Wednesday 27 November. For further info: https://www.ipevents.net/healthinvestor-power-fifty/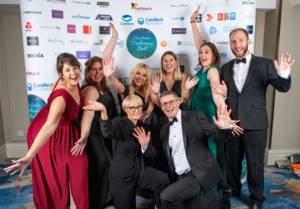 Amanda and some of the team at the recent Care Sector Fundraising Ball, held on 28 September 2019 in London, which helped to raise funds for the Alzheimer's Society and The Care Workers' Charity.