Carterwood are delighted to share the news that we are the 'Property Consultant' award winners at the LaingBuisson Awards 2021.
On Thursday 18th November, hundreds of sector-leading organisations gathered at the Park Plaza Westminster Bridge in London to reflect on the past year and celebrate the amazing work executed during the challenges of a global pandemic.
The 16th LaingBuisson Awards recognised 31 winners across seven categories, including Social Care, Clinical Services, Innovators & Leaders, Investors & Finance, Property, Advisors and the most recently added, Outstanding Response to COVID. The latter category shines a light on the businesses that provided, and continue to provide, vital services during a period of unprecedented upheaval.
The Property Consultant award recognises excellence in advising on valuation, consulting, acquisition, sale and financing of healthcare property assets. This year's competition was strong, with several multi-national organisations shortlisted for the award; however, we pride ourselves on doing things differently, with three unique qualities: sector specialism, data quality, and innovation.
"Carterwood have had a good year, they are powering on with their differentiation piece, which is pretty strong"

LaingBuisson award judge
We have focused on innovation as key to achieving success, revolutionising access to market intelligence and leading the way with sector research and market insight, and the whole team are thrilled to be awarded this accolade.
Amanda Nurse, managing director at Carterwood, comments:
"In March 2020, like so many businesses, my business partner Ben Hartley and I didn't know what the future would hold. Would our clients still need specialist market analysis advice? We were faced with the hardest decisions of our careers, and realised we needed to restructure to move away from sales and focus upon our core of market analysis.

Should we continue with our market-leading nationwide fee research, the development of our new retirement living market analysis platform, and progress with talent acquisition to meet the changing business needs? The answer to all three was yes.

As an independent practice, we have formidable competition from national talented practices. To be presented with the Property Consultant award on behalf of the team, especially after the rollercoaster of the pandemic, is truly sensational. Our team are outstanding and being the managing director of this business is made easy when you have sector-leading talent around you.

I first heard William Laing speak over 30 years ago when I attended the awards with Andrew Sidwell, founder of GVA's healthcare team. Since then, William has continued to be a thought leader and we are honoured to be presented, once again, with this prestigious award."
To discover more about the awards and the other category winners, please click here.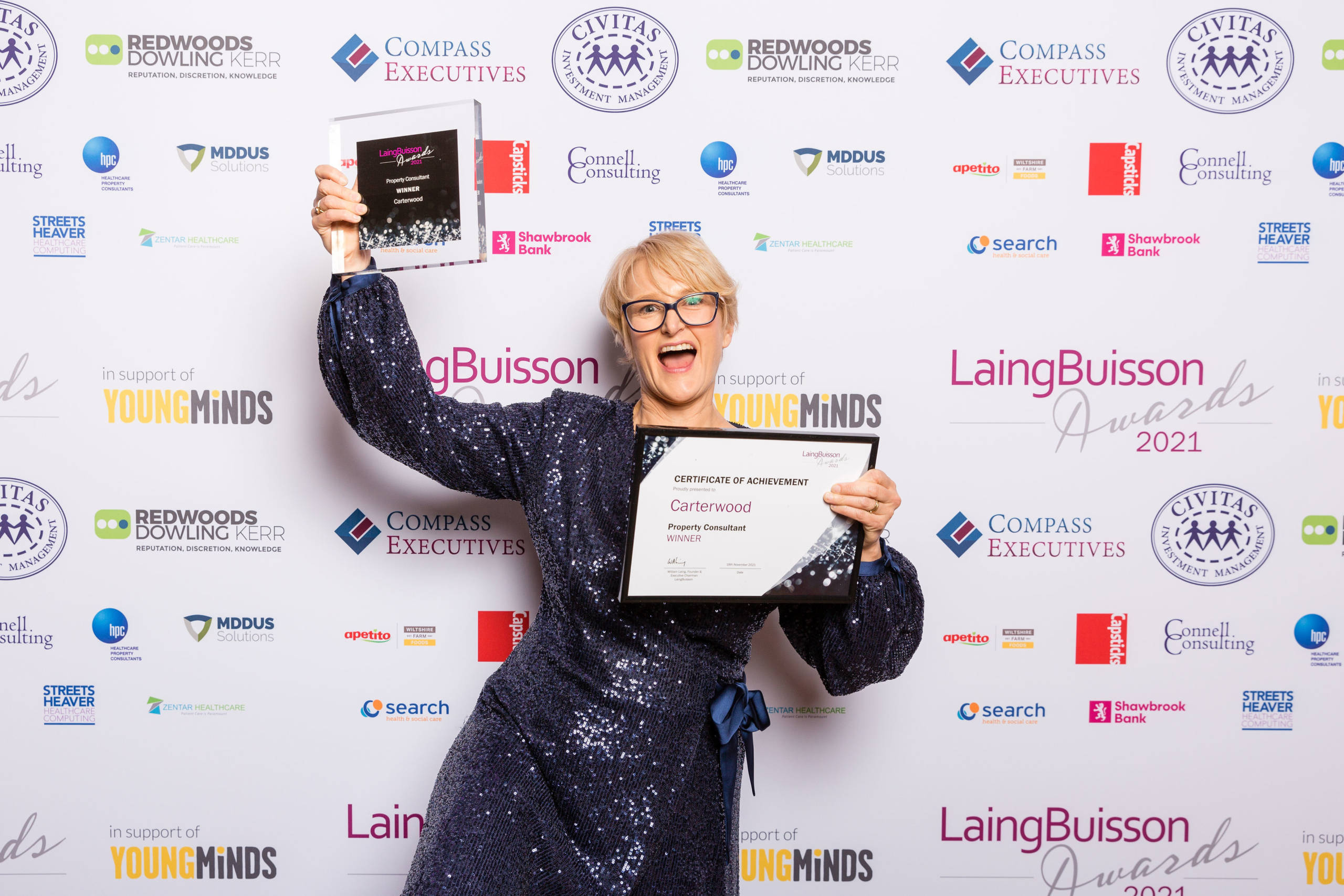 Interested in working with an award winning team? Let's talk
If you are interested in working with an award-winning team to help improve your strategic decision-making, we would be delighted to hear from you.
Our team of sector specialists are here to support your growth plans, providing expert market intelligence, advice and guidance at every step of your journey.
Discover how Carterwood Analytics – our online platform for care home and retirement living market analysis – can help you:
Alternatively, why not get in touch with Tom Hartley on 07715 495062 or tom.hartley@carterwood.co.uk