Carterwood became three-time winners of the HealthInvestor 'Property consultants of the year – property services' award at this year's prestigious event. This remarkable achievement is testament to Carterwood's consistent contribution to the sector, and was collected by managing director Amanda Nurse and director Matthew Drysdale.
The black-tie award ceremony was held on 12 June at London's Grosvenor House. Carterwood was also a finalist for the 'Consultants of the year – strategic' award.
Carterwood once again overcame a strong field of competition from six other firms. HealthInvestor has described this year as the 'most competitive entry process yet'. One of the judges from the expert independent judging panel commented: "Although very active and successful in acting for clients on care home and development project transactions, Carterwood offers much more than just agency services. The firm is well regarded for its acquisition due diligence advice and has invested heavily in market research and innovative data-based analytical tools to support clients' business decisions in the development of care villages and older persons' housing. The year-on-year growth in client numbers and billings testify to the success of its approach."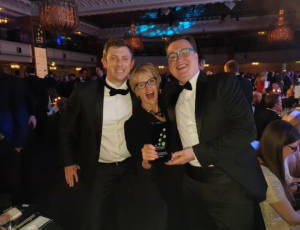 [L-R] Director Tom Hartley, managing director Amanda Nurse, director Matthew Drysdale
Speaking about the award, Carterwood managing director Amanda Nurse said: "If anyone had told me 11 years ago that we would win one Health Investor Award I would not have believed it and to be celebrating it for the third time is simply astounding.  Being able to collect the award on behalf of the team in front of over 1,200 of the people that lead our industry was certainly one of the highlights of the last 11 years for me personally.
It's an amazing and very proud achievement for us. We've had another incredibly busy year, with each and every member of the team going the extra mile. I very much believe our success is not only down to a great deal of hard work, but putting our clients at the centre of what we do."